Nokia Lumia Windows Phone 8 device displays compared
27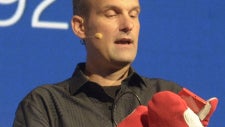 Nokia has slowly filled its Windows Phone 8 lineup and the latest two devices to join it, the Nokia Lumia 520 and Lumia 720, have to live up to a legacy of good screens. An interesting comparison of all the displays in the Lumia Windows Phone 8 series has now surfaced, revealing a few interesting truths about the perceivable difference in screen quality.
Lined up in this screen comparison, you'd see the new and most affordable Windows Phone 8 handset, the Lumia 520. Then comes the Lumia 620, the other newcomer in the form of the Lumia 720, and the Lumia 820 and Lumia 920.
All devices are on automatic brightness and you can instantly see that the most affordable Lumia 520 looks much dimmer than the rest. The reason is its positioning - it's at the edge and with poor viewing angles colors look dimmer on its 4-inch dispaly.
As to the rest, the 3.8-inch Lumia 620 fares noticeably better with the viewing angles, and so does the 4.3" Lumia 720. The Lumia 820 is notable for being the only one with an AMOLED display and you can instantly tell be the eye-popping colors. Finally, the Lumia 920 features a ClearBlack 4.5" LCD display with a higher refresh rate, something Nokia summarizes as PureMotion HD technology.
Both the Lumia 920 and 720 feature super sensitive touch that allows you to use your device with say glasses in the winter. Take a look at the comparison below to get a better grasp of which Lumia has the best display.
source:
Rafe Blandford
via
MyNokiaBlog