Nokia D1C tablet with 13.8-inch display and Android 7.0 Nougat spotted in benchmark
14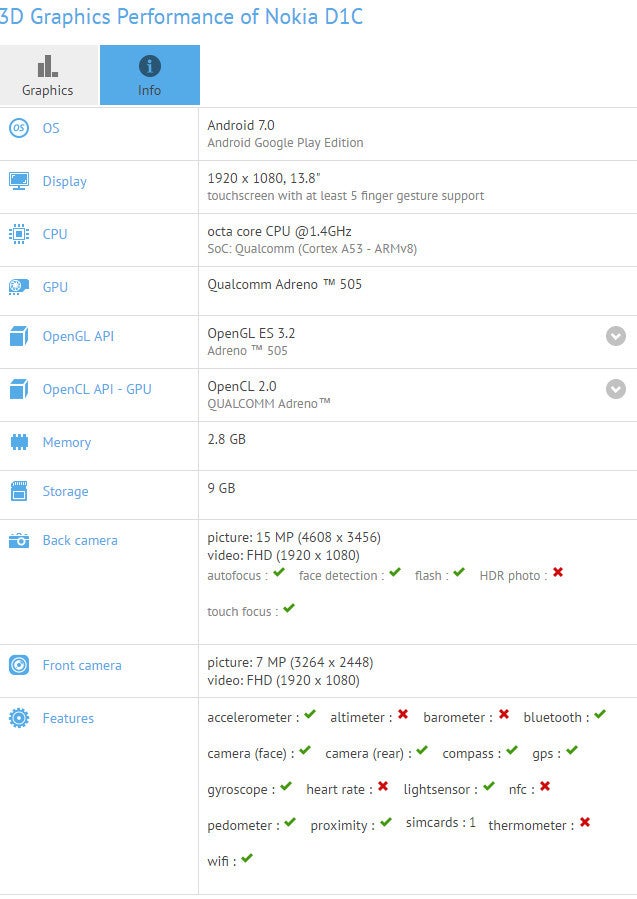 There's a high chance Nokia will be coming out with a device of some sort this year. We're more than two months away from the end of 2016, so there's still time for all those rumors to come true.
One device made headlines in particular, in the last few weeks, the Nokia D1C.
The name appeared in Geekbench
several times, but the listings did not reveal too much info about the hardware. The good news is the D1C has now been run through GFXBench, which offers us much more details about the device.
First of all, despite the fact that we thought this could be Nokia's first Android smartphone in a long while, the D1C is in fact … a tablet. Nevertheless, it's an Android tablet, which is pretty much real and probably under serious testing.
According to GFXBench, the Nokia D1C is powered by Android 7.0 Nougat, so it should definitely stand out from other tablets available on the market. Some of the information revealed by the benchmark confirms previous reports about the Nokia D1C; like the fact that's packed with a 1.4GHz octa-core processor (Snapdragon 430?) and an Adreno 505 graphics processing unit (GPU).
Furthermore, the slate is said to feature 3GB of RAM and 16GB of internal memory, but the benchmark only shows 9GB of free storage available. Nokia D1C is likely to boast a 16-megapixel photo snapper on the back, along with an 8-megapixel secondary camera in the front. Both cameras are capable to record full HD (1080p) videos.
The main thing that convinced us the D1C is a tablet,
not a smartphone
, is the size of the screen. Nokia's upcoming device sports a large 13.8-inch display that supports full HD (1080p) resolution.
That's about all we got until now, so here is hoping Nokia will come out with an official announcement sooner rather than later.
Recommended Stories