Nokia 808 PureView Specs Review
45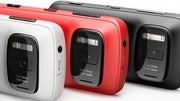 The
Nokia 808 PureView
is among the smartphones that generated a lot of buzz during MWC 2012, and is still heavily discussed in the blogosphere. And rightfully so, as it packs the
biggest and baddest camera sensor
that has ever found itself inside of a smartphone so far – 41 megapixels, 1/1.2" in size. But camera aside, is there anything else that can make it stand out?
Well, we cannot get our hands on a retail unit just yet, but until then, let us take a look at whatever Nokia 808 PureView specs we have and see what conclusions we can arrive at.
The obvious drawback to having an enormous camera in a smartphone is that it physically takes up quite a lot of space. That is why the Nokia 808 PureView is pretty bulky by today's standards with a
thickness of 14 millimeters
. So yeah, sexy is far from the first terms one would use to describe the device. Also, it is definitely among the heaviest of smartphones as it tips the scale at 169 grams. And with that kind of weight, you will definitely be able to feel the 808 PureView in your pocket. Last but not least, its design is okay, yet surprisingly, the smartphone does not feel as that premium of a device as the
Nokia N8
, as it became evident from our
Nokia 808 PureView hands-on review
.
With its
4 inches of display real estate
, the Nokia 808 PureView hits the sweet spot for many smartphone users. It is neither too big, nor too little, and it is very usable with a single hand. The combination of AMOLED and
ClearBlack
screen technologies ensures that the display delivers rich colors and deep blacks even when used outdoors on a bright, sunny day. And to make things even better, the display's surface is protected by Gorilla Glass, meaning that it is well armored against every day wear and tear. However, there is something that we cannot overlook, namely that the display on the Nokia 808 PureView has a
relatively low for its size resolution of 360 by 640 pixels
, which translates into a usable, but unimpressive pixel density of 184 pixels per inch.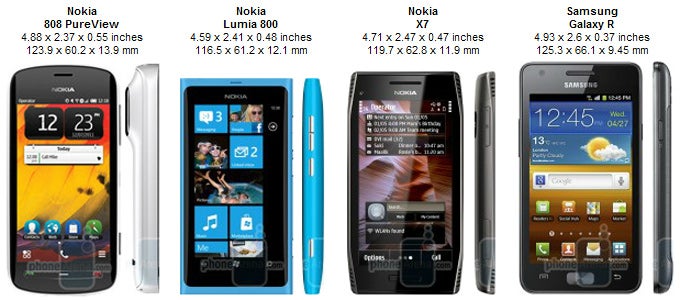 In terms of hardware, there isn't much that can make the Nokia 808 PureView stand out. Inside it we have a
1.3GHz single-core processor
based on ARM11 architecture and backed up by 512 megabytes of RAM. However, that is more than enough to deliver a smooth Nokia Belle experience, so don't worry too much about the smartphone's seemingly underpowered hardware. On-board storage is another thing that should not be much of a concern. You get
16 gigabytes
, which is okay for a contemporary smartphone, and if those full-res snaps and HD videos start piling up, you can always expand the handset's storage with a microSD card. Last but not least, we have a
1,400 mAh battery
under the device's back cover. It can provide 6.5 hours of talk-time on 3G or about three weeks of stand-by time, which is acceptable by today's norms.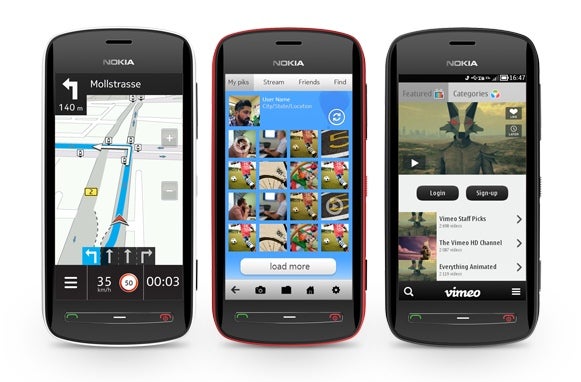 The Nokia 808 PureView runs Nokia Belle with Feature Pack 1 enhancements
What runs on the 808 PureView is the
Nokia Belle platform with Feature Pack 1 enhancements
, which is the latest Symbian iteration to date. Thankfully, a lot has been done to its interface, which is why it now looks a lot more like a contemporary mobile platform than it did before. Multiple home screens, variety of widgets, even a drop-down menu reminiscent of that we have on Android – these are the new features that Belle introduced with its release. Besides, it runs noticeably smoother than previous versions as its code has gone through some serious optimizing. For more details, we happen to have a really nice
Nokia Belle review
.
Connectivity-wise, the Nokia 808 PureView supports everything that is essential for a modern smartphone. For web access there is Wi-Fi b/g/n, and for the times when a hot spot is not around, the 3G HSPA radio can reach peak speeds of up to 14.4Mbps. You also get Bluetooth 3.0, NFC, TV-out via Micro HDMI, and USB mass storage mode for fast and easy file transfer between the smartphone and a PC and vice versa.
The
41-megapixel camera
is what makes the Nokia 808 PureView shine, and it shouldn't be surprising that thanks to it, the smartphone won the
Best New Mobile Handset award at Mobile World Congress 2012
. We have yet to test it out ourselves, but those
Nokia 808 PureView image samples
, which are also available in full resolution, look pretty good for a camera phone. Achieving that level of quality is a complicated process, so if you want to learn more about the way the 808 PureView's camera works, we have given it a
full-blown overview right here
. The camera experience would have not been completed if it wasn't for the xenon flash and LED light helping out in low-light situations. And when it comes to video, the handset can capture footage at 1080p resolution.
The Nokia 808 PureView may be pretty average as a smartphone, but as a camera phone, there doesn't seem to be anything else on the market that can beat it. Still, whether that is 100% accurate will become clear once we get our hands on a final unit and put it through its paces. The smartphone is expected to become available in May and will retail for about $600 off-contract.