Just how big is the sensor on the Nokia 808 PureView?
20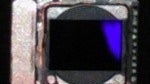 The
PureView
imaging technology at MWC was certainly one of the biggest highlight of the show, but so was the phone that came with it - the Nokia 808 PureView packs a 41-megapixel camera to support the new imaging tricks. The sensor that's making all of this possible has to be big enough to handle the huge images and it is.
The picture below demonstrates that it's nearly 2.5-times larger than the one on the Nokia N8, and that alone is quite an achievement. The 808 PureView actually can brag about having a sensor much larger than most point-and-shoot digital cameras.
We don't know whether the image below shows the exact same box Nokia's camera guru Damien Dinning carried around at MWC, but it looks like it. If so, the smallest sensor on the left is the usual size of a smartphone camera, and the middle one should match the one on the Nokia N8, while the last one is of the 808 PureView. How did Nokia make 41-megapixels work and why it's not just about the pictures - learn about
Nokia's PureView technology
here.