Nokia 808 PureView wins Best New Mobile Handset award at Mobile World Congress 2012
17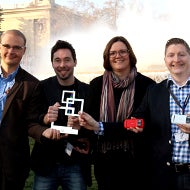 It's an award that recognizes novelty and things we haven't previously seen, rather than what's already out there, therefore it is not very surprising that Nokia 808 PureView won the Best New Mobile Handset award at Mobile World Congress 2012.
Actually the whole title of the prestigious award is "Best New Mobile Handset, Device or Tablet at Mobile World Congress 2012″, which is even more encompassing.
The decision is taken by a panel of analysts and journalists, which this year were no doubt impressed by the 41 Mpixels camera sensor the Finns R&D labs managed to cram into the Nokia 808 PureView's smartphone body.
Have a look at the winning team gathered for a family portrait in the photo on the right.
From left to right: the product manager Jussi Asikainen, co-inventor Juha Alakarhu, SVP of Smart Devices Jo Harlow, and co-inventor Eero Salmelin.