Nexus Prime might be called the Samsung Galaxy Nexus, sporting a 4.65" HD screen and metal chassis
78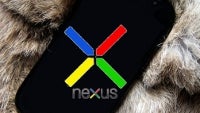 This is all a rumor with unspecified source for now, but the tipster actually claims that the final name of Google's Android Ice Cream Sandwich poster child will be
Samsung Galaxy Nexus
. A
support page for a Samsung GT-I9250 is already up
, with this internal code widely expected to be the rumored
Nexus Prime
, made by Samsung.
Let's leave the naming aside, the juicy specs are what matters. Not that the name doesn't sound well, but the source claims a 4.65" display with HD resolution and a
completely metal shell
, which will be 0.35" (8.8mm) thin. The metal part will be very interesting to see, considering Samsung's high-ends have kept things thin and light with the generous use of plastic so far. Also, so far all rumors
pointed towards a 4.5" HD screen
. If the display is 4.65", and it keeps the 800x1280 resolution of the Galaxy Note, our calculations show
324.6 pixel density
, which should be a treat.
Now mop up the drools, as the tipster has some more unconfirmed, but interesting info - the screen might be curved, like on the Nexus S, and the phone is expected to be announced at the end of October, fitting with
Eric Schmidt's own schedule for Android ICS
.
Make of it what you will, but this largely coincides with the inside info Eldar Murtazin posted in the spring - that
Samsung is prepping a monster Android handset in time to battle the next iPhone
, with a 4.5" edge-to-edge HD screen, no front buttons, and possibly made of metal - working on it in tight integration with Google. It was dubbed the Galaxy S3 then, but now it sounds like the Nexus Prime, doesn't it? Oops, we mean the Samsung Galaxy Nexus. At the time he also mentioned that this phone will be one of the reasons for Apple's countless lawsuits against the Galaxy line, and this now sounds pretty credible, considering the latest development in the US, EU, Australia and
Japan yesterday
.
Given that
HD Super AMOLED
is no longer a fictional technology, and we've been
handling a Samsung Galaxy Tab 7.7 preview unit
with it at the office in the last days, it's hard to imagine the
leaked UAP profile yesterday
suggesting WVGA resolution wasn't just a placeholder. If Samsung can make a 5.3" HD Super AMOLED for the
Galaxy Note
, what's to stop it from making a 4.65" one for a Galaxy Nexus?
October can't come soon enough. We just hope that Google doesn't let an unfinished product product out of the door with Android Ice Cream Sandwich,
time-pressed to out a juicy alternative to the next iPhone
.
source:
GSMArena
Recommended Stories