Nexus 7 leak shows wireless charging, quad-core processor, release date
22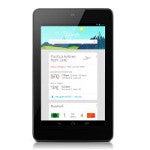 If the assumptions are right about what Google's Sundar Pichai will be announcing at at
event on Wednesday
, we're less than a week from the official announcement of the new Nexus 7 tablet. We've already seen a number of leaks on the tablet, including a recent one that
showed the potential hardware
. Now, there is a new leak that talks about new features making it to the tablet like wireless charging.
The leak confirms specs that had previously been rumored like the 7" display, dual cameras (1.2MP front, 5MP rear), and Android 4.3. There is also mention of a
1.5GHz quad-core processor
, but no mention of what model processor it is. There have been more rumors pointing to a quad-core Snapdragon S4 Pro, but there have also been a couple rumors saying it would be a Snapdragon 600; and, this doesn't help clear that up.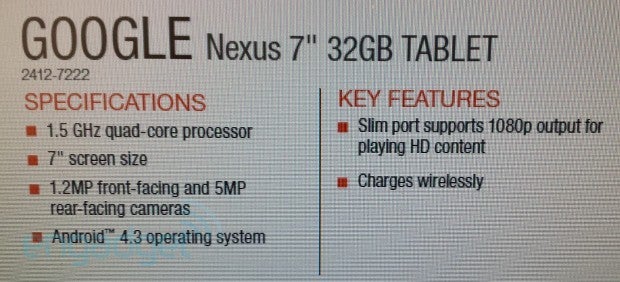 There are two new features mentioned in the leak though. Apparently, the new Nexus 7 will feature "slim port" support for
full 1080p video output
, just like its big brother the Nexus 10. And, there will also be support for
wireless charging
built into the new tablet. We just hope the wireless charging accessory comes a bit faster than the
Charging Orb
for the Nexus 4, which didn't arrive until 3 months after the Nexus 4 was released.
Engadget is also saying the leak puts the
official release date on July 31st
, at least in Staples. The last we had heard was that the devices would be arriving in stores like OfficeMax this weekend, but this is the first hard release date we've seen.