New Nexus 7 shows up in video along with potential specs
44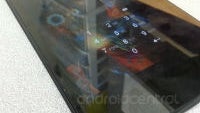 All signs are pointing to the new Nexus 7 being announced and released next week. The rumors surrounding the Nexus 7 refresh have consistently put the release date at the end of July, and earlier today Google began sending out invites to an event hosted by the
Android chief Sundar Pichai
scheduled for next week. Now we're seeing the first real photos and video of the tablet in action.
It seems that the guys over at
Android Central
got their hands on a new Nexus 7, although
to be clear: no one is sure if this is the real thing or a prototype model, and the specs are listed on a printed sticker, which may not be accurate
. The pics and video AC received didn't delve into the system itself, just showing the outside and the lockscreen with a PIN lock number pad, but gave an idea of the build and potential specs.
According to the spec sheet, the device is running a
Snapdragon S4 Pro
, which is different from the Snapdragon 600 that was listed when the Nexus 7 passed though the
Bluetooth SIG
, but does match the
FCC filing
. The sheet also lists
4GB of RAM
, but we're not sure how likely that is given the price point Google is aiming for. As expected though,
the device does add a second camera
; so, in addition to the 1.2MP front camera, there is also now a 5MP rear camera. The resolution of the 7" display isn't mentioned, but is expected to be 1200x1920.
As far as the build of the device, the rubberized rear has been replaced with a more matte plastic with the Nexus branding prominently etched. The buttons and microUSB are in the same places as before. But, another new addition is a second speaker on the rear of the device. There had been a single speaker on the rear at the bottom of the original Nexus 7, but now there are
dual speakers
.
Lastly, there has been more info that has come from the OfficeMax leak that showed the
pricing earlier today
. According to the info, the Nexus 7 will be
received by stores on July 20th,
which would give stores a few days to organize inventory before Google's announcement on the 24th. Additionally, OfficeMax will apparently
sell the new Nexus 7 alongside the old Nexus 7
. The new will not replace the old, so we may see a slightly new name for this year's 7" tablet.
It all looks to be falling into place for the new version of Google's 7" tablet, so all we need now is the official announcement and official release. The rumors and leaks are building a pretty clear picture of what to expect, though. What do you guys think? Is it shaping up to be a worthy successor?