Nexus 4 Wireless Charger (Orb) hands-on
12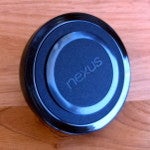 We heard about the
Nexus Wireless Charging Orb
the same day that the Nexus 4 and Nexus 10 were announced, but unfortunately it took another three months between the release of the Nexus 4 and
the release
of the slightly renamed
Nexus 4 Wireless Charger
(though we prefer to call it the Orb). We finally got our hands on it on Friday, and it's time to give you our hands-on impressions.
When it was first announced, the Orb was likened to another Matias Duarte creation, the Palm Touchstone, and it certainly does have some similarities, although the Orb is obviously an orb; and according to the label, it was designed by LG. The design is nice enough, but it
doesn't really stand out
in any way. The small form factor will easily fit in with any other objects you have on a nightstand or desk. Of course, while the Orb will wirelessly charge your Nexus 4 via induction charging, the Orb itself does have one USB connection so it can draw power from the outlet, so you won't be able to completely free yourself of wires on your desk.
The outside is a matte plastic that
feels quite good to the touch
, and easy to grip (not that you'll have much occasion to pick up the Orb). The bottom rim is also rubber, so the Orb won't slide around on your desk (unlike the extremely slippery Nexus 4). The outer front rim is a smooth hard plastic, and the rest of the front face is a somewhat sticky rubber. The rubber makes dropping your Nexus 4 onto the Orb
soundless, and smooth,
but it is also prone to picking up dirt and dust. The face of the Orb has magnets to hold the Nexus 4 in place, no matter how you put the device on the Orb, giving it a
clean, free-standing look
.
The only issue we have with the Orb is the price. While the device is well designed, solidly-made, and offers freedom from fumbling with USB cables, we're not totally sure it's worth
$59.99
. That's not really Google's fault though, as the price is in line with the competition. Similar wireless chargers from Nokia retail from $50-80, so it's more just the "early adopter tax" on cool new hardware. We're also slightly concerned that this will be an accessory just for the Nexus 4. It seems reasonable that the Orb would work with future Nexus phones, but Google hasn't yet said one way or the other.
If the price isn't a dealbreaker for you (and you've been able to get your hands on a Nexus 4), you can get an Orb via the
Google Play Store
.