Android/Chrome head Sundar Pichai to host Google event July 24th: Nexus 7 announcement?
11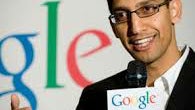 Google has begun sending out invitations for an event on July 24 in San Francisco. The event will be hosted by senior vice president for Android and Chrome at Google, Sundar Pichai. Unfortunately, the invites don't say what topics will be on the schedule for the event, but obviously that won't stop anyone from speculating.
And, if we had to put money down,
we expect the announcement is about the next-gen Nexus 7
. There have been consistent rumors that the Nexus 7 refresh would be released at the end of July, and we just saw a new leak pertaining to
the pricing of the tablet
; so, it's a fairly good bet that the Nexus 7 will highlight the announcement.
There are other possibilities for the event. It could include the official announcement of the next version of Android, although
we would expect an announcement of the incremental update of Android 4.3
, rather than the full Android 5.0, which is more likely to be announced with the Nexus 5 and next-gen Nexus 10 in the fall. Some may try to stir up rumors about this being the Moto X reveal, but we would expect that to come from Motorola CEO Dennis Woodside, not Sundar Pichai.
Whatever the announcements, we'll bring them to you. The event is scheduled to begin at 12PM EST (9AM PST), and Google will be live-streaming the event at its
YouTube channel
.