Company on Shark Tank shows off product that Apple couldn't build
22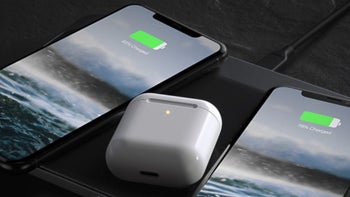 If you're a fan of ABC's Shark Tank, the television show that sends entrepreneurs into a room full of multi-millionaires to fund their business ventures, you might have seen a company called Aira make a pitch yesterday. The firm licenses what it calls a wireless charging surface that allows devices to charge in any orientation. The problem with most wireless charging pads is that the device being placed on the pad must align perfectly with the coils inside the mat. Aira uses a technology it calls "FreePower."

Using a different type of wireless power coil matrix, patented circuitry and proprietary algorithms track the location of a device on the surface and then activate "sweet spots" that charge the phone/tablet/wearable/earpods case. The wireless surface is compatible with Qi standards and will charge multiple devices simultaneously. As mentioned on the company's website, "an iPhone might need more power to charge efficiently, while the AirPods next to it might require a lot less. If the device is Qi-enabled to receive wireless power, it'll charge." The first Aira licensed wireless charging product will be the Nomad Base Station Pro, expected to launch later this year.
"FreePower brings freedom to the wireless charging experience. A device placed anywhere on the surface will receive intuitive wireless power. Traditional wireless chargers have a small Sweet Spot in the center of the pad. If a device isn't perfectly aligned, it won't charge...FreePower solves this with its foundationally different wireless power coil matrix, making the wireless charging experience what it was always meant to be - completely effortless and truly convenient."-Aira
Aira gets three Sharks to bite

During the company's pitch in the tank, the most tech-focused of the Sharks, Mark Cuban, decided not to make an investment in Aira. Cuban cited a pair of companies working on over-the-air charging such as uBeam and Energous.
We wrote about the former back in 2014
, and two years ago
Energous received FCC approval
for technology that transmits signals to a phone that is up to three feet away. Eventually, a smartphone owner will be able to walk into a room and walk out with a fully charged handset.
Disney also is working on similar technology
which we could see becoming a big hit at its theme parks. Imagine walking into the Haunted Mansion with your phone's battery percentage down to 15% and walking out of the ride with your phone's battery at 100%. Cuban said that he was afraid that Aira's technology could be leapfrogged by OTA wireless charging.
Aira was founded by Eric Goodchild and Jake Slatnick, both of whom appeared on Shark Tank. It's interesting to see that the company was able to accomplish something that Apple was unable to. You might remember that Apple's Air Power charging pad was introduced by Apple on September 12th, 2017; that was the same event that unveiled the
iPhone 8
,
iPhone 8 Plus
and the
iPhone X
. The pad was designed to allow for the simultaneous charging of a couple of handsets, or an iPhone, an Apple Watch and the AirPods wireless charging case. By June 2018, AirPower became Apple's longest-running vaporware, but production of the accessory supposedly started this past January. A diagram of AirPower showed up on the retail box for the second-generation AirPods in March. But Apple
surprised everyone by canceling the product later that month
. At the time, Apple senior vice president of Hardware Engineering Dan Riccio said that AirPower could not live up to Apple's high standards.
So, did Aira get any of the Sharks to bite? After three sharks expressed interest in the company, the trio (Kevin O'Leary, Lori Greiner, and Robert Herjavec) decided to team up. The three agreed to give Aira $500,000 for 15% of the company. With this funding and the experience of the Sharks, we'd expect to see a number of Aira licensed products (besides the Noma Base Station Pro) hit the market next year.