New survey shows Android closing in fast on iPhone
14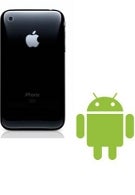 According to the latest ChangeWave survey, the iPhone still leads as the model that most potential buyers want for their next phone. But the Apple handset better not look over its shoulder because coming up right behind it is Android. Out of 4,068 current and potential smartphone buyers, 21% say they would prefer to buy an Android device for their next phone. That is an increase of 15% from the prior year. In the same time period, those who want the iPhone for their next model dropped from 32% to 28%. Potential BlackBerry buyers rose from 17% to 18% while a Windows Mobile phone was the choice of 6% of those surveyed, down from 9% last year. Those looking to purchase a webOS device dropped in half to just 3%.
In terms of happiness, 77% of iPhone users are "very satisfied" with their device compared with 72% of Android users who say the same thing. 41% of BlackBerry users are "very satisfied" with their phone while 33% of Palm owners and 25% of Windows Mobile users say "ditto" about the handset that they are using. One note, ChangeWave says that the Palm Pre on its own scored a "very satisfied" rating of 58%.
How will the Nexus One change the rating when the Android powerhouse gets launched? ChangeWave reports that those looking to buy a phone in the next 90 days still prefer to buy the iPhone 3GS. Still, Android has the momentum and could overtake the Apple touchscreen device sometime in 2010.
source:
arstechnica