New leaked photos claim to show the Mi 5 in black, suggest a full-on metal build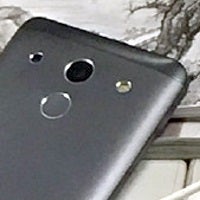 If you keep an eye on PhoneArena, you may have noticed that a certain Chinese smartphone by the name of Xiaomi Mi 5 has been rather prominent in the news since the beginning of 2016. It's an upcoming flagship model by a brand that's extremely popular in its homeland and has also managed to achieve some degree of global awareness.
The Mi 5 is an interesting device, because it's been in the making for an unusually long time (close to 19 months already), and it's also supposed to carry all the qualities we associate with premium models, such as glass and metal design supplemented by a heavyweight spec sheet. The smartphone is
confirmed as finished and in production
, targeting an early February (possibly around the 8th) release in China. This can partially explain the steady current of leaks that's been trickling down the Internet pipes lately.
The latest clue to reach the shores is a pair of photos claiming that they show the new Xiaomi Mi 5's back panel. They originate from Weibo, a Chinese social network in the vein of Twitter. Once again appearing in black, the smartphone pictured here is equipped with what we assume is a laser-autofocus module (left), two-tone LED flash (right), and a fingerprint scanner (bottom) in addition to the sizable camera module positioned in the center. Note the interesting design touch - all modules are encircled with metal banding, making for a consistent and modern look.
Speaking of metal, most of the body seems to be constructed from some kind of aluminum alloy, with the top and bottom parts possibly fashioned out of metal-imitating plastic as to not get in the way of signal reception. This is an approach we've seen in the
Meizu PRO 5
, which almost tricked us into believing we have an all-metal smartphone...
almost
! This contradicts previous rumors, including some rather genuine-looking renders that depicted the Xiaomi Mi 5 with a "sandwich" construction, in which the glass-covered front and back sides are held by a metal frame.
Other details that come clear from the photos are the presence of a 3.5mm jack up top, and a speaker grille with what looks like a USB Type-C connector on the bottom. Nothing out of the ordinary here!
With the surfacing of these photos, we have to take a step back and admit that the Xiaomi Mi 5's final design still eludes to a major extent. The smartphone pictured here looks nothing like the
purported Mi 5 renders
we've seen, and it could be many things — a production prototype, a fake, the real deal, or an unknown Redmi-series handset.
source:
Weibo
via
G For Games
More Xiaomi Mi 5 stories