New images of Motorola Moto 360 2 appear
34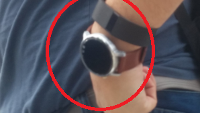 A few days ago, we showed you
images of what looked like the sequel to the Motorola Moto 360 smartwatch
. We know that the pictures weren't showing the current version of the watch because of the placement of the timepiece's lone button. On the OG Moto 360, that button is located at 3 O'Clock. On the sequel, the button is placed at 2 O'Clock.
Next month, the Moto 360 will celebrate its first anniversary. At the time of its release, the round design of the Android Wear powered smartwatch stood out among the rectangular timepieces already released. But there was one design feature of the watch that many buyers and potential buyers of the watch complained about. Because the bottom of the watch contains sensors (like the ambient light sensor), the display squares off at the bottom of the Moto 360 creating a "flat tire" look. Despite talk that the flat would be 'repaired' in the sequel, it looks as though this is not the case.
Some of the photos taken of the Motorola Moto 360 2 last week were snapped by a commuter on a train in Chicago, who noticed a fellow rider wearing it. Today's leak shows the smartwatch being worn by Lenovo's senior vice president Chen Xudong. Another photo was snapped in the wild. Check out the photos by clicking on the slideshow below.
Thanks for the tip!