New details of the next-gen Apple Watch emerge
32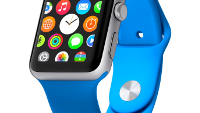 Apple's annual spring event is
expected to take place
on March 15th, as per a report that circulated yesterday. Said gathering will likely play host to the so-called '
iPhone 5se
', along with the much rumored
iPad Air 3
, which will apparently include a number of iPad Pro-like features. The Apple Watch could also be on the agenda, but while the aforementioned report has touted bunch of new bands in the offing, Cupertino analyst Gene Munster reckons the device itself will be in for an incremental upgrade.
From his predictions, it seems likely that the new model will take the form of a refresh, rather than offering a spate of new features. Naturally, many have expected the second-gen model to include
a FaceTime camera
, in-built Wi-Fi and other such enhancements as the fledgling product continues to find its feet. According to Munster, though, the Watch will be furnished with spec bump including a new processor, and may follow the blueprint of Apple's iPhone 'S' updates.
Despite
strong early sales
, the jury's still very much out on the Apple Watch, and the same can be said from competing efforts brought forth by the likes of Samsung and Motorola. Yet the market for fitness bands continues to tick along nicely, seemingly unperturbed by the recent influences of the biggest names in tech. The Fitbit, in particular, has continued to appeal to fitness fanatics far and wide, with the company's CEO having recently claimed that the Watch has had
no material impact on sales
.
Even if the Apple Watch gets some direct attention from its creator at next month's exhibition, it's unlikely to be the Apple Watch 2. This falls in line with earlier reports that a new Apple Watch
would

not

be coming
this March, and given the supposed lack of supply chain activity, it's perhaps more likely that new accessories will be the only talking point for the wearable. Perhaps Tim Cook's firm is saving a major upgrade for
later this year
.
There's no question that the Apple Watch has the Cool Factor that its maker seems to strive for with every piece of hardware it churns out. But like so many wrist computers hitherto, it has struggled to find its place in a market where the smartphone is arguably as convenient for most tasks offered by such a device.
On March 15th, we'll hopefully learn just what Apple has in store for the Watch.