Apple expected to announce iPhone 5se and iPad Air 3 on March 15
10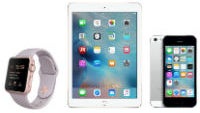 We've known for a while that Apple was getting ready for an announcement soon, and the rumors have been swirling that the announcement would be coming in mid-March. But, it looks like we finally have an exact date to circle on our calendars, because the latest is that Apple will have a new iPhone and iPad to announce on March 15th.
According to sources for 9to5Mac, Apple has set the announcement for Tuesday March 15th. At that event, it is expected that Apple will be announcing the iPhone 5se, the iPad Air 3, and new Apple Watch bands. The date isn't exactly set in stone but what we will see announced at the event seems pretty solid at this point. The
iPad Air 3
will likely be a pretty standard update to the iPad Air line of tablets that could be slightly smaller but have a 4K display, and new Apple Watch bands are just that and nothing terribly exciting, at least not compared to the original expectation of the
Apple Watch 2.
The big question mark right now is the iPhone 5se. The original rumors said that this might be a lower-cost iPhone that could be marketed to regions that Apple has been reluctant to enter. But, the prevailing rumor now is that the device will be a
high-spec phone
with a smaller 4-inch screen in order to satisfy the high-end customers who don't want to get a larger display device.
Only about a month and a half before we find out.