Report: Apple Watch 2 will include a FaceTime camera, native Wi-Fi, new models and more
31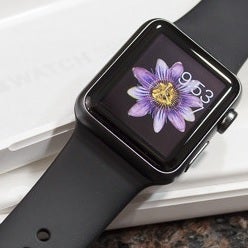 Early adopters may have dived straight in and grabbed the
Apple Watch
already, but many seem convinced that waiting for a more refined second-gen variant may be a smarter move. A new report indicates that those skipping the initial release may be justified in their decision, since the second-coming of Apple Watch could boast a front-facing camera, independent Wi-Fi connection and more.
While Apple suggests that demand for its first wrist-worn computer is outstripping supply, the tech world remains fairly apathetic towards this emerging product category. After the success of the Pebble, Apple is one of a number of big names to have dipped its toes into the smartwatch pool, but despite reports of sales in excess of one million, the jury's still very much out on whether Apple Watch is a genuine game-changer or a passing fad.
At a day and age where most mobile devices have a camera of some description, many have questioned Apple Watch's lack of shooter. It'd be cynical to suggest that Apple purposely dropped the camera in order to coax users into purchasing second-generation edition, but according to sources of 9to5Mac, the next Apple Watch may well pack a FaceTime video camera.
Apparently, Apple is toying with the idea of baking the camera into the top bezel of the Apple Watch 2, which would permit users to hold video calls through FaceTime and, presumably, capture selfies and such. With the just-announced watchOS 2.0 software update having drafted in support for FaceTime audio calling on the Apple Watch, video chat would seem a natural next step. While Apple does appear to be considering the camera integration, though, such plans could easily change, so nothing's definite as yet.
Apple is also working on affording its wearable more independence through what is being referred to as the "tether-less" initiative. As the reference implies, the aim of this endeavor is to bolster Apple Watch's functionality when not connected to an iPhone. With the report also alluding to a new, in-house Wi-Fi chip, the next Watch should be able to perform many more tasks without consulting an iPhone. The device won't become a completely self-sufficient entity, though, with the report adding that an iPhone will probably still be needed for software updates, media file syncing, and so forth.
At present, there's a gulf in pricing between the numerous Apple Watch models. The aluminum Apple Watch Sport and the stainless steel Apple Watch are in the hundreds of dollars, while the Edition range is upward of $10,000. Cupertino is apparently planning to diversify its line-up by adding more models within the $1,000 and $10,000 range, possibly comprised of materials such as titanium, tungsten, palladium and platinum.
The next-gen Apple Watch is expected to make its way to market in 2016, and could, perhaps, arrive in April as the first model did this year.
Let us know what you'd like to see included with the Apple Watch 2 by leaving your thoughts in the comments.