New Nexus 7 gets benchmarks and full specs before announcement
32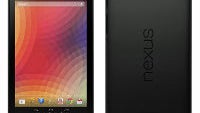 We just sifted through a big stack of screenshots that detailed the new
Moto X software features
, so why not switch gears a bit and take a look a benchmarks and hardware specs for the new Nexus 7. The new Nexus 7 will be announced in just under 11 hours by Google's Android/Chrome chief Sundar Pichai.
We've already had a pretty accurate idea of the specs
expected in the Nexus 7
, based on a number of other leaks. And, we got a rundown of the
Moto X specs
using a few of the same benchmark tests recently. According to the newly run tests, the new Nexus 7 will feature a quad-core 1.5GHz Snapdragon S4 Pro, 2GB of RAM, and a 7" 1920x1200 screen (reported as 1200x1824 in benchmarks because of the on-screen nav bar). So, with the same processor and RAM, the Nexus 7 is essentially a larger version of the Nexus 4.
On the benchmark side of things the Nexus 7 falls where you would expect, given the rumored
boost that Android 4.3 gives
to scores. AnTuTu has the Nexus 7 scoring just a bit higher than the Nexus 4 with a score just under 20,000. On Quadrant, the Nexus 7 also follows the Nexus 4 with an oddly low score of about 5,500 (the Nexus 4 mustered just 4,200), of course this just serves to prove that benchmarks don't foretell real world performance.
The really big boost will be with the GPU. Whereas the old Nexus 7 scored a lowly 1,877 on the 3DMark Ice Storm Extreme test, this year's Nexus 7 scored an impressive 7,188 at around 30fps.
That rounds out to be an impressive hardware bump. Factor in the new rear camera and wireless charging, and you're getting a solid deal.