New Nexus 7: here's all there is to know
18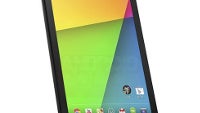 In fairness, we did think that, perhaps, not everyone is as excited as we are about
the launch of the next iteration of the Nexus 7 tomorrow
(which we'll liveblog, by the way!). But then we thought that that's just nuts – what is there not to
love
about the Nexus 7 II? From the price tag, through the truly impressive specs and down to its privileged status of a Nexus device (meaning timely updates), the Google/ASUS duo and its second joint venture scream exciting however you look at it.
With the clock ticking, and with you having shown a considerable interest in the various exploits of the upcoming tablet, now seems like a perfect time for a recap on what we
think
we know. Luckily for all involved, it won't be long until we have an official confirmation (or refutation) of those.
Now that we've settled on those prior accounts, we invite you to the gallery below for a journey through all there is to know about the new Nexus 7.