In-depth look at new Moto X software: Connect, Active Display, Assist, and more
25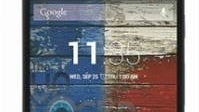 As part of today's
DROID lineup
announcement, we saw a couple
software additions
made by Motorola including Touchless Control and Active Display. Well not surprisingly, those features will also be found in the Moto X as well as a slew of other interesting features like Motorola Migrate and Connect, as we're seeing in a new set of software leaks from the X Phone. And, what's pretty interesting is that there is a lot more info in this leak than we got from the official DROID announcement today.
Let's start out by revisiting the features that we heard about today:
Touchless Controls and Active Display
There isn't much new to add about
Touchless Controls
. The feature is basically voice activation for Google Now. You can train it to recognize your voice with a the activation phrase "OK Google Now". Then, even when your phone is asleep, you can activate Google Now and speak a command. Definitely a nice feature, but unfortunately we don't know what kinds of commands have been added to really push the "touchless control" concept.
The far more interesting side of things is the
Active Display
feature, which will be using the Moto X's AMOLED display in an incredible way to bring you info with a minimal hit to battery usage. We saw this a bit in the
Rogers promo video
, and earlier today we mentioned it as a way to "allows users to preview messages and app alerts without waking their phone". Now, we know a bit more about how that will work.
According to the tutorial screenshots on the feature, the phone will fade in and out notifications (as we saw in the video), but the real key here is that
the display will light "only the pixels needed"
, rather than waking the entire display, which will drastically reduce battery usage. Even better, as we've heard about the awareness features of the device, the Moto X will know when it is in your pocket, face down, or on a call, and not show notifications in those situations. So, using the various phone sensors,
notifications will only show when you are most likely to see them
.
Additionally there are
various controls for the notifications that appear
. Dragging the notification upwards will expand it with more detail, and dragging down to the unlock area will unlock your device and launch you straight into whatever app triggered the notification. Dragging a notification right or left will throw it away, much like the swipe gestures you find in various places around Android and Google Apps these days.
Active Display does come with a fair number of
control settings
as well. It looks like you will be able to manage the types of notifications that come through; and, it does say "type", which implies there won't be per-app controls. You can also choose to hide notifications altogether if you use a PIN lock or gesture lock on your device. And, you can set sleep times where notifications won't be shown, no matter what.
Motorola Connect and Lost Phone Tracking
Considering that it is designed to offload phone usage to another device that doesn't have battery worries,
Motorola Connect
is also technically part of the Active Display feature. The idea here is that Motorola Connect will pair your phone with a Chrome extension to allow you to
sync your text messages and phone calls
. Motorola Connect does promise to let you "send and receive text messages from your computer and even get incoming call and missed call notifications."
So, it sounds like Google Voice in that you can send and receive texts, but it is unclear if you will be able to route calls to Google Hangouts, like you can with Voice, or if Connect will only offer incoming call notifications and you'll still need to answer the call on your phone. You will be able to respond to phone calls with texts; and, Connect will have Google Now-like functionality to "
highlight important notifications
" based on info it pulls from your "contact, calendar, call, and text message information". That last bit seems like it will rankle some people who don't want to be reminded that machines can scan messages for context.
Motorola Connect also serves as the backbone of other new features, including a feature that we keep hoping gets built into stock Android at some point:
lost phone tracking
. Motorola Connect will use your Google account credentials to allow you access to a Lost Phone Portal page, where you will be able to track your phone. So far, there is no word on if there will be options for remote wipe or any added security features.
Motorola Migrate and Assist
Of course, the features mentioned so far are all things that you'll need once your device is already set up and ready to go, but there is also the issue of setting up your new device. That's where
Motorola Migrate
comes in. The idea here is to make it easy to transfer all of your information from your old Android phone to your new one. The key there being Android phone, because it doesn't look as though there are options for users on other platforms to take advantage of the feature.
How it will work is that users will be prompted to download the Motorola Migrate app from Google Play onto their old device. Presumably you will log-in with your Google credentials, and the app will gather your
text messages, call history, SIM contacts, media (video, pictures, and music), and your volume and screen brightness settings
. Once that is done, you just complete the migration on your new device, and you're good to go. This is a very nice feature that looks to extend the data syncing you already get from Google, which brings over your contacts, mail, calendar, and apps (though not your app data.)
Lastly, we have
Motorola Assist
, which is Motorola's contextually aware feature bundle. Think of it like an automated version of Tasker or Locale. With those apps, you have to input various parameters (like, when at this GPS location, turn off my ringer), but Assist will have more of a Google Now feel in that it will automatically try to know when to change various phone settings.
For example, if you are moving at a certain speed, it will assume you are driving and put you into
driving mode
, which will make it easier to access hands-free communications options. We assume that this means even if you don't have Touchless Controls set up, you will be able to use voice commands at any time in driving mode. Additionally, Assist will pull information from your calendar (and, we assume, reference it with your GPS location) to determine if you are in a meeting or some other place where it would be best to silence your phone. And, it will know to turn off your ringer at night.
Presumably there will be settings to tweak all of these actions, but the screenshots we're seeing don't show any of that.
We knew that there was a lot coming in terms of software for the Moto X, but this is quite the impressive feature set right out of the gate. Some of the features aren't exclusive to the Moto X, and will be found on the new DROIDs that were announced today, but some features are exclusive to the Moto X, as far as we can tell. Most importantly, these are features that will be useful to most people, and not just end up as bloatware that clogs the system just for the sake of features (yes, we're referring directly to TouchWiz on that one.) Motorola (read: Google) is obviously trying to keep things close to stock, but add customizations that set the devices apart both from the pure Android Nexus line, but also from the often over-customized manufacturer offerings.
We're pretty impressed so far, how about you?