Netflix removes key feature from its iOS app
10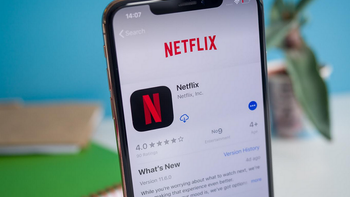 AirPlay is a feature found on iOS and Mac devices that allows users to send audio, video, photographs, screenshots and more between Apple devices sharing a similar network. Using Bluetooth and Wi-Fi, AirPlay will let a home with multiple
HomePod
speakers in different rooms, share the same song throughout the house. And with several smart TV manufacturers adding support for the feature, content from an iOS or Mac device can be viewable on certain large-screen smart TVs.
According to SlashGea
r, there have been a number of complaints from iPhone and iPad users stating that AirPlay was no longer working with Netflix. That was unusual because the iOS version of the streaming video app has supported AirPlay since 2013. The complaints from iOS users state that when they tried to use AirPlay in the Netflix app, a pop-up error message appeared that said, "Cannot play title. Please try again later."
But there is a reason why AirPlay no longer works with Netflix. As a result of what it is calling "technical limitations," Netflix has pulled AirPlay support from its iOS app. This is actually noted by the video streamer on its support page. Considering that this was an iOS feature that Netflix had supported for over five years, it is strange that AirPlay would all of a sudden no longer work with Netflix. The company has not divulged the details of the "technical limitations" that have forced it to stop offering AirPlay support (more on that later).
UPDATE: As per AppleInsider, Netflix disabled AirPlay because the streams are now going out to third party devices. As a result, Netflix can no longer tell what is an Apple TV and what isn't

This isn't the end of the world for Netflix subscribers used to employing AirPlay. After all, the Netflix app can be installed or is already installed on a number of smart television sets. But using AirPlay does make it easier for iOS users with Netflix to stream content from their own account to a smart TV that does not have their Netflix login information.

"We want to make sure our members have a great Netflix experience on any device they use. With AirPlay support rolling out to third-party devices, there isn't a way for us to distinguish between devices (what is an Apple TV vs. what isn't) or certify these experiences. Therefore, we have decided to discontinue Netflix AirPlay support to ensure our standard of quality for viewing is being met. Members can continue to access Netflix on the built-in app across Apple TV and other devices."-Netflix
The Netflix support page lists some other options that iOS users can try in order to cast Netflix from their phone or tablet to a compatible television. With the Netflix 2nd Screen option, subscribers open the Netflix app on their iOS device and television, signing into the same account on both devices. The mobile device and the TV must share the same Wi-Fi network. On the mobile device, the user needs to tap on "Cast" found in the upper or lower right of the screen, and select the television that he/she wants to view Netflix on. After deciding which show or movie to watch, the user hits play and the selected content will appear on the TV.

Another option, found on Philips, Polaroid, Sharp, Skyworth, Soniq, Sony, Toshiba, and Vizio TVs, will allow you to Chromecast Netflix from your iOS device to your television. Simply open the Netflix app on your iOS device, and tap on the "Cast" icon in the upper or lower right hand side of the screen. Select the device you want to watch Netflix on, choose a television show or movie, and hit play.
Apple is now a Netflix competitor thanks to Apple TV+

Last month,
Apple became a Netflix competitor
by unveiling Apple TV+. This is a video streaming service that will be available this fall on iOS devices along with certain smart TVs. There will be new, original programming from Apple along with content from HBO, Showtime and others. Could this new rivalry be behind the "technical limitations" that forced Netflix to stop supporting AirPlay? After all, it does seem strange that Netflix was able to support AirPlay for from 2013 until now, just when Apple introduces a service that will compete with it.
Netflix, of course, will never admit to this. And regardless what the true reasons are, the bottom line is that iOS users will have to resort to the aforementioned alternatives if they want to cast any streaming Netflix content from their iPhone or iPad to their smart TV.