Netflix Fast.com speed-test tool arrives to measure your mobile bandwidth
11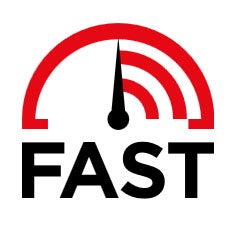 How many times have you been using your phone, trying to stream a video, download an app, or just simply browse the web, and you can't shake the feeling like your connection is
way
slower than it should be. You've got full bars, and everything looks like it
should
be working fine, but for whatever reason you're constantly buffering or waiting for pages to load. Now Netflix has a new tool available to give you some no-nonsense data on just how fast your phone's connection really is, as it launches the new Fast.com service.
But aren't there
plenty of speed-testing tools already out there
? Sure, you've got
your pick of options
, but there are few details about how Fast.com operates that might make it particularly attractive for the next time you want to hold a tape measure to your mobile broadband speeds.
For one, it works right in the browser – and that's just as true for the desktop as it is for mobile. There's no app to download, no chore of choosing the right server for your location; you just enter "fast.com" in your browser and it instantly starts measuring your speed.
The other real benefit is considering which servers Fast.com uses to perform its measurements. Since it taps right in to
the same Netflix servers that deliver the company's video assets
, you're measuring your speed relative to a service you'd actually want to use. Who cares if some random speed-test app says your phone has a really high-speed hookup when measuring from some under-utilized rack in an anonymous network hub? With Fast.com, you're looking at real-world speeds that might be just a bit more meaningful.
Still, Netflix is aware that people will want to shop around, and after giving you your results, Fast.com helpfully links to SpeedTest if you feel up for a comparison.
Does your mobile connection live up to your carrier's promises? Or does Fast.com suggest you should be getting more for your money? Complain about your pitiful service (or brag about the insane speeds you're getting) down in the comments.
source:
Netflix