Need to kill some time? The Interview is now on Netflix
12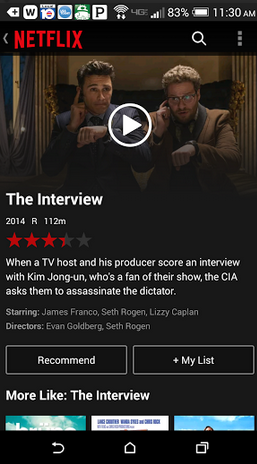 The Interview is now available for Netflix subscribers
If you have some time to kill today (112 minues to be exact), you can open up the Netflix app on your phone or tablet, and watch
The Interview
. Of course, you need to be a Netflix subscriber. The movie follows a couple of media-types (Seth Rogen and James Franco) about to interview North Korean leader Kim Jong-un, and are asked by the CIA to assassinate him instead.
The real Kim Jong-un was not too pleased to discover the plot of the movie, and as a result, he had a hack squad break into Sony's online files. This resulted in the public release of some embarrassing emails that were supposed to remain confidential. After some threats were made against them, theaters that planned on showing the film backed away. Sony decided to pull distribution of the movie, and it appeared that the comedy would end up as a total write-off for the Japanese entertainment firm.
Sensitive to the public ridicule it was receiving, Sony did a 180 degree turn and
The Interview
had a limited theatrical release. At the same time,
Sony allowed the movie to be purchased from the Google Play Store and iTunes
. A recent report revealed that $40 million in revenue has been taken in from such digital sales.
Now,
as we promised you a few days ago
, watching the most talked about movie of the year is as easy as clicking on the Netflix app. Enjoy!
source: Netflix