NSFW: Latest breakdown of mobile traffic by Pornhub
68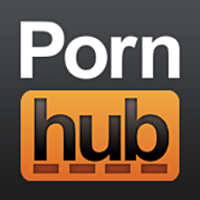 Last year, we
passed along some interesting stats from Pornhub
. Now, the porn site has once again found time to take the raw data that is generated by its visitors, and turn it into some worthwhile figures. Right off the bat, Pornhub shows us how much traffic from both iOS and Android has grown over the years. In September 2010, the two rival mobile operating systems accounted for 12% of the site's total traffic. 88% came from other mobile operating systems and desktop users. As of last month, iOS and Android accounted for 63% of the site's total traffic, with Android leading by 1 thin percentage point (32% to 31%). We can chalk this up to the increasing, uh, penetration of smartphones overall. In addition, mobile devices have an obvious
edge
over desktops when using the site.
Looking at mobile traffic only, over the five year period, the race to be on top remained tight. Android, with 48%, had a slight lead over iOS. The latter was responsible for 46% of Pornhub's mobile traffic. Obviously, users of both mobile operating systems have a healthy sex drive. Android's lead grows to 10 percentage points over iOS when we look at phone traffic only. Android users made up 52% of the site's visitors coming from a handset, as opposed to the 42% of iOS users that visit via an iPhone. It's the reverse when we look at tablet traffic only. 68% of the tablet traffic came from an iPad, while only 30% of tablet users were using an Android powered slab.
The stats indicate that iOS users were the quickest to arrive, spending an average of 8 minutes and 40 seconds per visit. Android users, on average, spent 10 minutes and 6 seconds on the site each time they came. Users of other mobile operating systems were spending 11 minutes and 6 seconds on average, when browsing the site. Both iOS and Android users have their fetishes. MILF videos (Google it) were viewed by iOS users 134% more than Android users, while the latter group was 91% more into cartoon porn than iOS users. Yikes.
In the U.S., iOS was responsible for 53% of Pornhub's mobile traffic, with 44% belonging to Android users. While the U.S. was the country that visited the site most often, the U.K. was number two (31% Android, 64% iOS) with India third (71% Android, 6% iOS). Gender wise, no matter which platform was being employed, male visitors to the site accounted for roughly 75% of the mobile traffic.
We're sure you will do your bit over the next year to help your favorite mobile platform score higher next time.
Latest breakdown of mobile traffic to Pornhub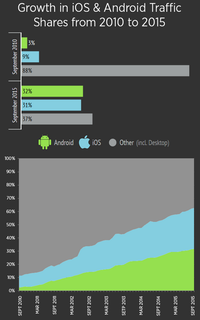 Thanks for the, uh, tip!
source:
Pornhub
via
AndroidSpin
,
Engadget