Munster: Apple can add 62 million iOS users in India
43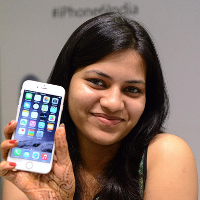 India is the new China as far as Apple is concerned. Remember a few years ago,
before Apple made a deal to supply China Mobile with the iPhone?
Apple CEO Tim Cook would constantly talk up the country, even going as far as predicting that China would soon replace the U.S. as the top country for iPhone sales. That came true when Apple released its quarterly report in April 2015.
With Apple reporting last month
its first quarter with declining year-over-year iPhone sales
, what can you make of the 56% gain in iPhone sales reported in India during the same time period? Even more amazing is the fact that the average Indian consumer makes $1500 USD a year. That explains why 70% of Indian smartphone sales were for devices priced under $150 last year. It also explains why the
Apple iPhone 5s
, priced at $300, is the top selling iPhone in India.
Cook met with India's Prime Minister Modi last week
, the Apple executive mentioned that he would like to open Apple Stores in India. But an anonymous government official said that to meet with the administration's "Made in India" plan,
30% of the goods sold in each store must be sourced from the country
. If Foxconn goes through with its plan to
open a factory in India to churn out iPhones
, this might not be a problem.
India is one of the largest countries with a low smartphone penetration rate. Of the 1.25 billion citizens in the country, only 15% own a smartphone. In China, 58% of its 1.37 billion citizens sport a smartphone. Apple is believed to have sold 56 million iPhones in China last year compared to the 4 million it sold in India during 2015.
Munster says that if Apple can raise its 3% to 5% share of the Indian smartphone market to match its share of the Chinese smartphone market (10% to 15%), it would add 10 million new users. If Apple can match its market share in China while the Indian market were to reach the same level of smartphone penetration as seen in China, the analyst says it would add 62 million new iOS users in the market.
But alas, the pricing situation doesn't help Apple here. While Cook has said that he would like to lower iPhone prices in India, he also said that Apple will not give in where quality is concerned. Apple did apply to the government to sell refurbished iPhones in India, but officials say that the application was rejected because
they didn't want shipments of used devices to flood its market
.
Apple has its work cut out for it in India, although the potential rewards are great.
source:
AppleInsider