China Mobile confirms multimillion unit orders for the Apple iPhone; Apple CEO Cook "optimistic"
11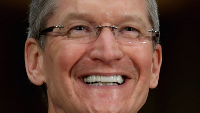 Earlier on Tuesday, we passed along a published report which stated that
1.4 million units of the Apple iPhone had been shipped from Foxconn to China Mobile
. The world's largest carrier is about to launch the device for the first time, this Friday. Now, China Mobile Chairman Xi Guohua has started to talk about adding the iPhone to the roster of handsets he sells the 763 million subscribers to his network. The carrier is the world's largest mobile operator and the executive made it clear that the device will be a success. He said that China Mobile has made a multmillion unit order of iPhones.
This eliminates much of the concern from analysts who have worried that the
low number of preorders in the first few days
the iPhone could be reserved, signified disinterest on the part of China Mobile subscribers. And there is some legitimate worry that with a 16GB
Apple iPhone 5s
and a similarly endowed
Apple iPhone 5c
priced at 5,288 yuan ($870 USD) and 4,488 yuan ($738 USD) respectively, Apple will have its lunch eaten by low end Chinese made models.
"As of this weekend we will be selling iPhones in more than 3,000 additional locations. China Mobile already has a reach to many cities that Apple does not have a reach to."
-Tim Cook, CEO, Apple
But don't expect Apple to change its pricing or to aim for the low end with a new model. CEO Tim Cook said at a media briefing on Tuesday, "
Apple has always been about making the best products, not the most products, so that's always our North Star and that's not going to change ever
." Cook also pointed out that half a million developers in the U.S. are writing apps for iOS. But that was sort of a random stat thrown out on a day when the topic was the cooperation between China Mobile and Apple. "
We've gotten to know each other....today is a beginning, and I think there are lots more things our companies can do together in the future
," said Cook. Did someone say "Apple iPad"?
source:
WSJ