Motorola's Moto X (2017) might have just shown us its curves in live pictures
16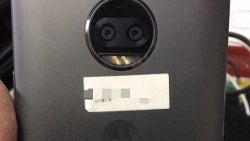 A couple of photos showing the alleged
Moto X (2017)
have just surfaced online. It's possible that Motorola is already working on such a device, but judging by what's revealed in the leaked pictures it will be foolish to think that the Moto X (2017) is a high-end smartphone.
Two of the pictures leaked directly from China give us an idea of what the phone will look like since they show the front and back sides of the Moto X (2017). The third image is meant to confirm some of the phone's hardware, which fits perfectly to that of a mid-range handset.
First off, it looks like the handset will be equipped with an octa-core
Qualcomm Snapdragon 625
processor, coupled with 3GB RAM and 32GB of internal memory.
We're also given the model number of the smartphone: Motorola XT1801. More importantly, the phone features a dual-camera setup on the back side. An awkwardly positioned dual-tone LED flash can be seen below the camera, which could be an indication that someone has tampered with the pictures.
Is the Moto X (2017) so close to being revealed that we're already starting to see prototypes pictured in the wild? That might be true, but it's hard to vouch for the legitimacy of these photos, especially that they come from China from an unverified source.