Motorola wants a piece of that Android patent infringement pie, too
26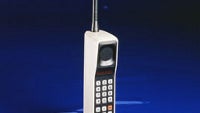 Hey, when you are the
first company to introduce the portable cell phone
, you gotta do what you gotta do, okay? Loaded with intellectual property and patents from the dawn of mobile,
Motorola isn't afraid it will be sued for patent infringement over its Android handsets
, although Microsoft is giving it a shot anyway.
Motorola's phone and tablet finances are not so rosy
, and it has been mostly in the red ever since the iPhone got introduced in 2007. So what's a fella to do, but start cashing in on those dusty patent files lurking in the basement? CEO Sanjay Jha hinted at a conference presentation that the company might start milking the Android patent gravy train itself, seeing that
some are so successful
:
"
I would bring up IP as a very important for differentiation (among Android vendors). We have a very large IP portfolio, and I think in the long term, as things settle down, you will see a meaningful difference in positions of many different Android players. Both, in terms of avoidance of royalties, as well as

potentially being able to collect royalties

. And that will make a big difference to people who have very strong IP positions.
"
Google better hurry up with circling the wagons, or whatever modern day defense tactic it is employing,
like buying up patents by the boatload, or bringing the coffers to K street
.
via
UnwiredView
Recommended Stories