Microsoft gets $5 from every HTC Android device sold, income from Android surpasses WP revenue
29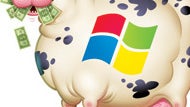 While it may sound absurd at first, HTC has to pay Microsoft
$5 for every handset
it sells running on…
Android
, Citi analyst Walter Pritchard claims in an in-depth report on Microsoft. Redmond has already started legal action to seek $7.50 to $12.50 for patents from other manufacturers, Pritchard adds fuel to the fire. The $5 per device fee similarly reflects a patent settlement between Microsoft and HTC.
Pritchard however didn't release any data about the price of the license for Microsoft's own Windows Phone platform, but instead shared expectations about many
more lawsuits
coming in Google's direction as "Google appears to have very little IP to defend itself with." Asymso's Horace Dediu however assumes a $15 royalty payment for Windows Phone handsets and at 2 million units of admitted sales so far, that translates into revenues of some $30 million.

What's more shocking is the fact that - based on analyst Asymco's rough estimations –
Microsoft has five times more income from Android
than it has registered from its own Windows Phone platform. Some 30 million HTC Androids sold so far make for a total of $150 million solely from licenses for Redmond. In addition, another Citi analyst, Kevin Chiang, shared his estimate on Android device producers operating margins standing at 10% to 15% for handsets, while for tablets the number stood at the mere 2% to 3%.
To put it all in perspective, the average selling price of HTC-made phones hovers around the $360 mark, so that translates into a 1.39% share Microsoft snatches from the cost of the smartphone. If the software giant manages to force all phone makers to pay the patent fee, it would certainly swing the scales towards Windows Phone as Android would turn to be considerably less profitable. Could this be a momentum changer for Windows Phone? Feel free to drop your two cents in the comments section below.
source:
Business Insider
,
Asymco