Motorola to put multi-touch in all future handsets?
4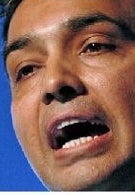 Motorola co-CEO Sanjay Jha was recently interviewed by Laptop magazine. Jha deflects the first question when asked if the Nexus-One had overshadowed the DROID. The response by the Motorola exec simply talked about how the Time Magazine Gadget of the Year has scored high popularity numbers with very low returns and how incredible the turn by turn navigation is on the flagship Verizon device. Jha does say that he doesn't believe that the U.S. is ready for unsubsidized phones yet and he believes most N-One's will be sold subsidized with a plan.
As far as multi-touch is concerned, Jha says, "
I think you will see us delivermultitouch in the majority of our devices going forward. There's acomplex set of factors, not all of them technical. But I think you'llsee us being proactive on multitouch because the user feedback onmultitouch is very good." The Motorola DROID does have multi-touch support, but not in the browser. On the other hand, the European version of the phone, the Motorola Milestone, does offer pinch-to-zoom in the browser. As we recently reported , Google's Andy Rubin said that the reason for the lack of multi-touch support for the DROID's browser is because he does not like two handed operations. As for the question of whether or not there will be a Motorola tablet, Jha said to expect some "innovation from us in this space."

source: LAPTOP