Motorola to make an "Exciting" announcement on Wednesday
49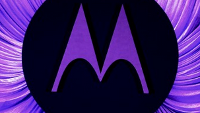 Motorola is hand delivering boxes to members of the press on Wednesday, with a surprise inside. Will the box contain a new Motorola handset? Or will it contain a sequel to the Motorola Moto 360 smartwatch. Perhaps it is a VR accessory for Moto handsets, or something completely out of left field.
Motorola is delivering these boxes on February 25th, which is a good four days before Samsung introduces the
Samsung Galaxy S6
and
Samsung Galaxy S6 Edge
at Barcelona during MWC. On the same day, HTC should be taking the wraps off of the
HTC One M9
and the
HTC One M9 Plus
/HTC One max 2.
Whatever is in the box will get a few days of coverage before those aforementioned flagship models grab everyone's attention. Actually, Motorola is still taking a pretty big risk by trying to steal the thunder before MWC. That's because we are sure to see plenty of leaks of the Galaxy S6 and HTC One M9 in the days leading up to March 1st.
So what is inside the boxes being delivered by Motorola? Care to venture a guess?
source: Motorola