Motorola showcases Insta-Share Projector and JBL Soundboost Moto Mods in new ads
7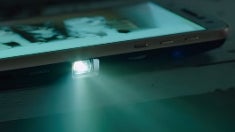 Lenovo-owned Motorola unveiled the
Moto Z
and
Moto Z Force
back in June and just this week, added the
Moto Z Play
to form a new trilogy. One interesting feature of all three handsets are their modular capabilities, for which Motorola has created a bunch of what it calls Moto Mods. While
the Hasselblad True Zoom
camera add-on is still fresh in the memory, a couple of new advertisements seek to remind us of what some of the others can do.
After
a decidedly lukewarm response
to the modular
LG G5
earlier this year, it's fair to say that Motorola has some convincing to do. As cool as swappable hardware may seem, will we actually carry bits of smartphone around with us from here on? In this regard, the new Moto Mod ads don't really give any answers.
The first clip, which plugs the
Moto Insta-Share Projector
, shows a couple being chased around a house by zombies. In a brief moment of respite, the woman then uses the projector to beam funny cat videos against a wall.
In the second commercial, entitled The Heist, sees a cop chasing a thief before the drama dissipates, and they both enjoy a song amplified by the
JBL Soundboost Mod
.
With the new Moto Z family set to reach global audiences over the next few weeks, it'll be intriguing to see if Motorola can succeed where LG has not. In light of the less-than-convincing G5 — along with
Project Ara's recent demise
— it's quite possible that if the Moto Mod idea fails to stick, we might not see another modular attempt for a while.
Have you got your eyes on the Moto Z series? If so, let us know which Moto Mod has your vote by dropping a comment below.