Motorola DROID top Android device based on worldwide traffic; Android grows 1100%
This article contains unofficial information.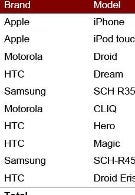 AdMob's offices would seem to be to be inhabited by a number of quiet nerds with ink stained fingers, glossing over every piece of information on cellphone usage and producing charts to prove one thing or another. In all fairness, we should point out that Google has acquired the company although the deal has yet to close. Anyway, according to those stats that AdMob likes to look at, the Android OS has grown a remarkable 1100% over the last year. In February 2009, Google's open source operating system owned a small 2% of the worldwide traffic for worldwide smartphone traffic. By February 2010, the green robot commanded a 24% piece of the pie. That still is far away from the iPhone's 50% share, but the Apple touchscreen should be looking over its shoulder as Android picks up momentum.
And as Android continues to pick up steam, the top 5 Android handsets based on worldwide traffic is led by the Motorola DROID followed by the HTC Dream, HTC Hero, HTCMagic and Motorola CLIQ. These results are based on traffic as of February 2010. As for the top devices worldwide, based on ad requests, numero uno is the Apple iPhone with a 24% share. The Motorola DROID is the next phone with a 3.8% piece of the ad request pie. Looking at smartphones only, the iPhone remains on top with a 49.5% share followed by the 7.8% slice owned by the Motorola DROID. You can check out the full report at the source link.
Motorola DROID Specifications
|
Review
Apple iPhone 3GS Specifications
|
Review
source:
AdMob
via
Phandroid