Motorola DROID Pro with portrait QWERTY and 3.1 inch screen is introduced
27

Motorola and Verizon have introduced the Motorola DROID Pro and it probably looks nothing like what you were expecting. Early speculation was that this handset would be a DROID 2 refitted for global use and made for the business set. With the ability to support voice calls in 220 countries and with data coverage in 200, the DROID Pro is still made for the pinstriped wearing executive who spends more time on an airplane than in an office, but the form factor is the surprise.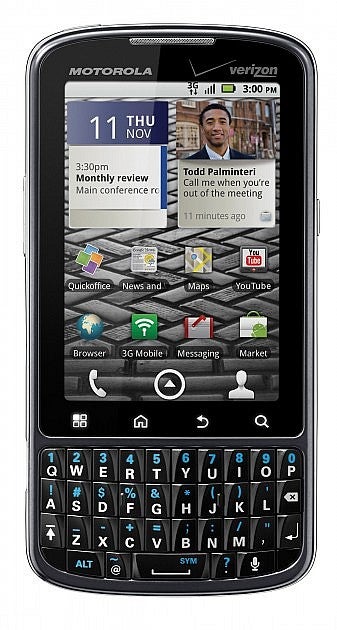 The Motorola DROID Pro is designed for the businessman on the go
The candybar shaped device features a portrait oriented QWERTY keyboard underneath the model's 3.1 inch capacitive touchscreen display. Under the hood is a 1GHz processor, running the show including the 5MP camera with AF and flash. The Motorola DROID Pro will ship with Android 2.2 on board along with Adobe Flash Player 10.1. The version of blur that we have seen on the Motorola DROID 2 and DROID X will also be included.
With the Motorola DROID Pro, users will be able to view and share documents like Microsoft Excel spreadsheets, Word documents and Power Point presentations. Users will be able to put up a live widget that delivers e-mail to their home screen which can be divided into personal and business messages.
While no word on pricing was revealed, the phone is expected to launch the first week of next month. Motorola Mobility CEO Sanjay Jha said, "The DROID Pro is an advanced business-ready solution that provides users with the full smartphone experience, redefined by delivering the power of a DROID."
Motorola DROID Pro Specifications
source:
Motorola