Motorola DROID Android 2.1 update to begin tomorrow at noon?
This article contains unofficial information.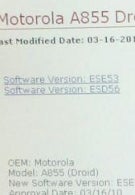 DROID owners, get your pinching fingers ready. Android Central has obtained a picture of an official looking document from Verizon that now gives us a time when Big Red plans on rolling out the Android
2.1
upgrade for the Motorola DROID. Starting on March 18th (Hey! That's tomorrow!) at noon, the upgrade will be sent out OTA to 250,000 units at a time. Combined with the 2.1 upgrade details that Verizon put on the internet yesterday, as we
reported
, and we feel even more comfortable that this is going to happen starting tomorrow than we were when Motorola used its Facebook page last time to announce the upgrade that never came. Because the upgrade is rolling out in small batches at a time, don't panic if your DROID doesn't have pinch-to-zoom in the browser at 12:01 tomorrow as it could take a few days for your particular unit to receive the upgrade.
Motorola DROID Specifications
|
Review
source:
AndroidCentral