Motorola DROID 2 R2-D2 Special Edition priced with September 30th launch date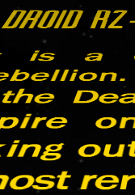 The word from
Tatooine
Verizon is that the Motorola DROID 2 R2-D2 Star Wars Special Edition will be launched September 30th, as expected. What we didn't know, until now, was the limited edition handset will cost $249 after a $100 mail-in rebate and a signed 2 year contract. A subscription to a Nationwide Talk plan or a Nationwide Talk and Text plan, starting at $39.99 per month, is required as is a Email and Web for Smartphone plan which provides unlimited service from $29.99 monthly.
The DROID 2 R2-D2 handset will include R2-D2 notification sounds and ringtones, 4 special live wallpapers, R2-D2 clock widget, "The best of R2-D2" video with the original Cantina music and an exclusive binoculars app. The handset itself has been designed to resemble R2-D2, as we have seen from pictures, and the box has been made to look like Carbonite (the material that Hans Solo was frozen in). Along with the phone, the purchaser will get a Star Wars media dock and a wired stereo headset.
To celebrate the 30 years since the theatrical release of the movie, Android users ruinning
2.1
or higher will be able to download a special app for the Empire Strikes Back from the Android Market.. Exclusive to Verizon customers, the app will allow the user to browse and view content related to Star Wars Episode V: The Empire Strikes Back. Premium Star Wars content can be accessed for a one-time charge of $2.99.
It's somehow fitting to end a story about Star Wars by shooting down something, but in this case we are shooting down what would have been good news. According to the DROIDDOES web site, the DROID 2 R2-D2 version will launch with a 1GHz processor, not the 1.2GHz chip that was
discussed earlier
.
Motorola DROID 2 Specifications
|
Review
source: Verizon via
BGR