DROID 2 R2-D2 Special Edition gets the force of 1.2GHz behind it?
20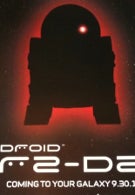 Just a few days ago, we
reported
that the DROID 2 World Edition would be equipped with a 1.2GHz processor instead of the 1GHz chip on the DROID 2.. So perhaps it shouldn't be too shocking that speculation is growing that the limited R2-D2 edition of the Motorola DROID 2 to launch at the end of this month, will also sport a 1.2GHz chip. How ironic it is that in just a few days, the Star Wars Special Edition of the DROID 2 will escalate the speed race in the cell phone industry.
first announced
, it was to be sold only online. Now, the word is that each participating store will have 200 handsets in stock and once they are all sold, that will be it for that location. If it is true that the limited edition will have a 1.2GHz processor, demand is going to be high, so if you want this device, your best bet might be to order from Verizon's web site as soon as the clock strikes 12 on September 30th.
Motorola DROID 2 World Edition Preliminary Specifications
source:
BGR