Motorola CEO Woodside talks Google
11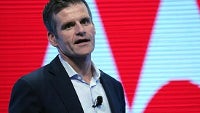 The
Motorola Moto X
and the lower cost
Motorola Moto G
, are widely assumed to be the first handsets that Motorola has released with major input from corporate parent Google. But originally,
the deal to buy Motorola
was struck by the crew at Mountain View in order to beef up its patent portfolio. However,
t
he $12.5 billion acquisition has not worked out the way Google had hoped
.
Motorola CEO Dennis Woodside recently sat down to talk about life under Google. The executive first presented readers with a mission statement, saying that the company's goal is to provide access to the mobile web for millions of people. With that out of the way, Woodside claims that we are beginning to see the manufacturer's strategy in the Moto G, which he says matches the iPhone spec for spec, but at one fourth the price.
So what does Google bring to the table? Woodside states that Google encourages Motorola to have a bold, long-term vision and is able to help back up Motorola's dreams with its capital. But that is where the connection between the two companies ends. Both use their own technology systems, and Motorola gets no favors from Google when it comes to obtaining the next build of Android. According to Woodside, Motorola does not receive an advance copy of the OS, and receives it from Google at the same time as any other manufacturer.
The executive says that in the future, he sees manufacturers improving on the build quality of smartphones. Woodside notes that people are concerned with breaking their new handsets, He sees this being addressed within the next 24 months as companies start replacing glass with...plastic (we heard you groan!). Woodside also expects to see smartphones responding to voice commands and "
doing what you intend
".
When Motorola's top executive was asked to name the company's closest competitors, to no one's surprise, he named Samsung and Apple. Anyone disagree with that assessment?
source:
JournalGazette