Moto Z Force announced: the indestructible flagship!
15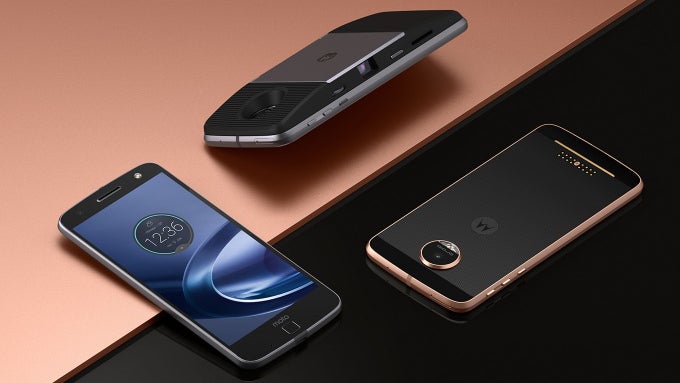 Well, folks – it's finally here! The indestructible modular Moto Z Force! Following cool demonstrations of a VR wizard deathmatch game, Ashton Kutcher trying to destroy a
DROID Turbo 2
, and our first — short but sweet — glimpse at
a prototype folding phone and folding tablet
, Lenovo finally announced the new duo of Moto Z smartphones.
Alongside the super-thin Moto Z, we got to see the shatter-proof display-equipped Moto Z Force — slightly thicker due to the ShatterShield technology and a slightly larger (3,500 mAh) battery. Hardware-wise, we've got the same flagship-class smartphone — let's take a closer look!
Design
The Moto Z Force may be a bit bulkier than its slim sibling, but it's just as pretty. Made with shiny, shiny metal, it has a somewhat stark, rectangular shape, a circular, noticeably protruding camera module, and a large, 5.5-inch display up front. The phone measures at 6.13 x 2.98 x 0.27 inches (155.9 x 75.8 x 6.99 mm), which means that it doesn't strike with super-thin bezels around the display, but they are still adequately kept at a minimum, with a screen-to-body ratio of 70.76%. And, despite that the Moto Z Force was introduced as the "thicker" phone of the duo, it's certainly still pretty slim – slightly thinner than the iPhone 6s, whose profile measures at 0.28 inches, even.
Just below the display, we see the square-shaped fingerprint scanner, which was first introduced with the
Moto G4 Plus
. As before, there are no capacitive navigation buttons to be found, the Moto Z Force makes use of the stock Android virtual back, home, and recent apps buttons instead. Up on the right side of the handset's metallic frame, we see three similarly-sized buttons - the power key and separate volume buttons. Nice and fresh design choice, in a year where volume rockers and pill-shaped buttons seem to be prevalent.
Sadly, the "no headphone jack" hype seems to have reached Lenovo as well — the Moto Z Force has no 3.5 mm jack. If you want to plug a set of earphones in the device, you'd have to make sure they come with a USB Type-C connector, or at least have a converting adapter.
Of course, the most notable thing about the smartphone are the new backpate modules. Called Moto Mods, these add or enhance various features. They snap to the Moto Z Force with the help of a metallic bar and a 16-pin connector, placed on the lower half of the device's rear. If these bother you too much, picking up one of the variously-colored Moto Style Shells will cover them up, as well as make the camera bulge look noticeably less intrusive.
Moto Mods modules
At the unveiling, we got to see four modules, which will be ready to ship alongside the Moto Z Force:
The JBL Sound Boost

is, as you can probably imagine, a speaker enhancer, which sounded impressively loud and meaty when demonstrated on-stage. Of course, we'll be able to draw a clearer conclusion when we get to play with it. While it does look quite bulky, the good news is that it also packs a spare battery, which enhances the Moto Z Force's life by 10 hours (of music playback) on a single charge.
The InstaShare projector

module allows you to instantly project a 70" screen on any flat surface nearby. This, of course, can have plenty of uses — from professionals beaming documents on the whiteboard, to friends sharing photos, or even watching a movie. This module also packs a battery enhancer, which provides for an extra hour of projection time.
The Power Pack

module expands the phone's battery life by 22 extra hours and comes in a variety of colors — hey, it may be bulky, but no one's gonna stop it from looking stylish!
The Style Shells

offer different textures and vibrant colors to go with your various outfits or mood for the day.
The modules are future-proof in the sense that they will work with upcoming Moto flagships, and Lenovo has made it clear that these are not the only Moto Mods that we will get to see. It presented just a few concepts that it's working on, and also extended an invitation to developers to join in on the fun — with a hefty $1 million reward for the one that comes up with the most awesome module.
Display
The AMOLED display has a 5.5-inch diagonal, and a 1440 x 2560 (QHD) pixel resolution, giving it an insanely crisp pixel-per-inch density of 534. Of course, we can't talk about the Moto Z Force's screen without mentioning its shatter-proof panel.
Back with the DROID Turbo 2, we were introduced to the so-called ShatterShield technology — a type of display protection that can withstand the clumsiest, or even the meanest and most aggressive drops. It survived countless of experiments and well earned its praise in the smartphone circles. With the Moto Z Force, the indestructible screen is back with a vengeance! While we wouldn't advise you try and smash your phone against the concrete just to test it, we'd say it's a handset shouldn't break easily — and shouldn't break your heart when you accidentally let it slip out of your hands.
Hardware and camera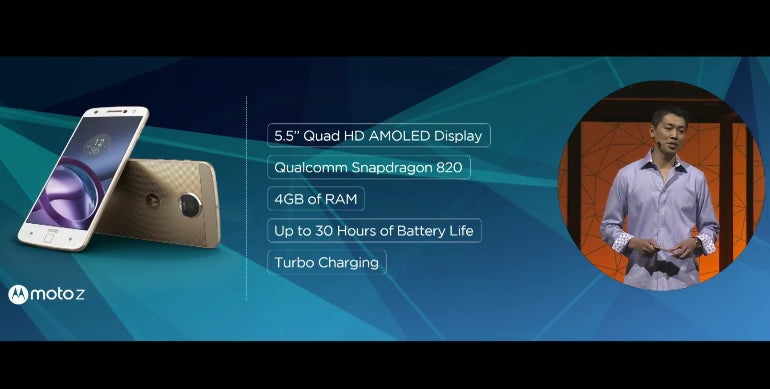 The Moto Z Force is definitely nothing to sneeze at in the hardware department, packing all the essentials for a 2016 flagship — a quad-core Qualcomm Snapdragon 820, 4 GB of LPDDR4 RAM, a choice of 32 GB or 64 GB internal storage chips of the super-fast UFS variety, and a microSD card slot to expand the phone's memory even further.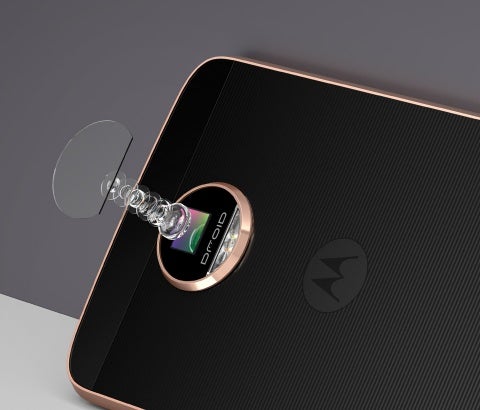 The camera looks like it won't disappoint as well. While Lenovo, sadly, didn't devote time to it at the actual presentation, the snapper's specs seem pretty respectable. A 21 MP sensor with 1.12um pixels is combined with a fairly wide F1.8 aperture lens, and Lenovo promises great low-light performance. The Moto Z Force combines laser-assisted autofocus with phase-detection autofocus where the Moto Z only has the former. And, aside from what looks like a pretty fast focusing mechanism, we are promised zero shutter lag — that all sounds amazing.
The juicebox that keeps the lights on packs a generous capacity of 3,500 mAh. Lenovo boasts 40 hours of mixed usage, and the ability to charge the battery up to 50% in just 20 minutes.
Availability
While we, unfortunately, still have no work on the phone's pricing, Lenovo has revealed when you'd be able to get your hands on the indestructible flagship. The Moto Z and Moto Z Force will launch together, first branded as the Verizon-exclusive Moto Z DROID and Moto Z Force DROID some time this summer. Both phones will hit European markets this September and will be up on store shelves in the US some time in the Fall.