Lenovo displays flexible devices at Tech World; not real products but "a sign of things to come"
5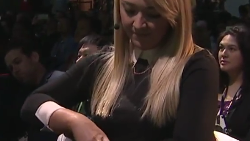 During the kick off to Lenovo Tech World being held today in San Francisco, the company demonstrated two devices that are not yet products but are "a sign of things to come." YouTube personality Meghan McCarthy was holding a smartphone in her hand and noted that the dress she was wearing had no pockets. Wondering where she could put her phone, in the blink of an eye she snapped the device onto her wrist, the screen flexing to accommodate it.
Next, she held aloft a tablet with a kitten on it. In a matter of seconds, she had it folded up and pressed to her ear to use as a phone. As Lenovo's CTO Dr. Peter Hortensius pointed out, such devices require more than just flexible screen technology. Internal components need to bend in order for these products to work.
While the crowd went nuts seeing the flexible phone and tablet, we do need to keep in mind that these were just display units. If these are indeed "a sign of things to come," as Dr. Hortensius said, then bring on the future.
Recommended Stories