Moto G5 Plus vs Samsung Galaxy A5 (2017) vs Nokia 6: specs comparison
10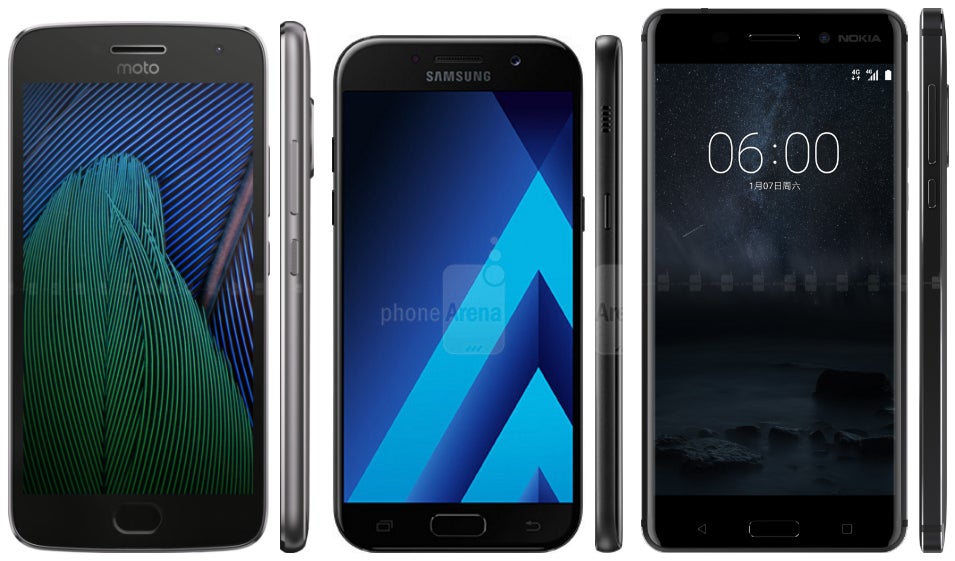 If you're in the market for a new mid-range Android phone, 2017 looks to be a year full of great options. Three of the options that certainly deserve your attention are the
Moto G5 Plus
,
Samsung Galaxy A5 (2017)
, and
Nokia 6
. All three handsets are built around metal frames, offer 1080p displays, fingerprint scanners, at least 3 GB of RAM, and octa-core processors. Moreover, they have good cameras.
The Samsung Galaxy A5 (2017) is the most compact phone of the bunch, and the Nokia 6 is the largest - but that's no surprise, as the Nokia model sports a 5.5-inch display, whereas both the Moto G5 Plus and the Galaxy A5 have 5.2-inch screens.
Each of these phones has strengths and weaknesses. For example, the Galaxy A5 (2017) is about $150 more expensive than the other two, and runs Android Marshmallow. On the other hand, the A5 is dust- and water-resistant, and is already available to buy in the US via Amazon (more exactly, for now, only the international model can be purchased).
The Moto G5 Plus likely
has the best rear camera
(with 4K video - absent on the other two phones), while the Nokia 6 is obviously better if you need more screen estate. Both the Moto G5 Plus and the Nokia 6 should be released in the coming months in the US, although, at the moment, we don't know if the Nokia device will be
officially
offered here.
Take a look at the detailed specs comparison below. If you were to choose, which of these three handsets would you rather get?
Super AMOLED
IPS LCD
IPS LCD
Scratch-resistant glass, Ambient light sensor, Proximity sensor
Scratch-resistant glass, Ambient light sensor, Proximity sensor
Scratch-resistant glass, Ambient light sensor, Proximity sensor
Samsung Exynos 7 Octa 7880 (14 nm)
Qualcomm Snapdragon 430 8937
Qualcomm Snapdragon 625 8953
Octa-core, 1900 MHz, ARM Cortex-A53, 64-bit
Octa-core, 1400 MHz, ARM Cortex-A53, 64-bit
Octa-core, 2000 MHz, ARM Cortex-A53, 64-bit
Mali-T830 MP3
Adreno 505
Adreno 506
Android (8.0 Oreo, 7.0 Nougat, 6.0 Marshmallow)
Android (9.0 Pie, 8.1 Oreo, 8.0 Oreo, 7.1 Nougat)
Android (8.1 Oreo, 7.0 Nougat)
Fast charging
Fast charging
Fast charging
16.00 hours
the

average

is 0 h (0 min)
18.00 hours
the

average

is 0 h (0 min)
32.0 days (768 hours)
the

average

is 0 days (0 h)
3G: 13 hours; LTE: 16 hours; Wi-Fi: 18 hours
Single camera
Single camera
Single camera
16 MP (Autofocus, CMOS image sensor)
Aperture size: F1.9; Focal length: 27 mm
Aperture size: F2.0; Pixel size: 1 μm
Aperture size: F1.7; Focal length: 26 mm; Sensor size: 1/2.5"; Pixel size: 1.4 μm
1920x1080 (Full HD) (30 fps)
1920x1080 (Full HD) (30 fps)
3840x2160 (4K UHD) (30 fps)
Video calling, Video sharing
Video calling, Video sharing
EIS, Video calling, Video sharing
5.75 x 2.81 x 0.31 inches (146.1 x 71.4 x 7.9 mm)
6.06 x 2.98 x 0.33 inches (154 x 75.8 x 8.4 mm)
5.91 x 2.91 x 0.38 inches (150.2 x 74 x 9.7 mm)
5.61 oz (159.0 g)
the

average

is 6 oz (171 g)
5.96 oz (169.0 g)
the

average

is 6 oz (171 g)
5.47 oz (155.0 g)
the

average

is 6 oz (171 g)
Back: Glass; Frame: Metal
Back: Aluminum
Back: Aluminum; Frame: Plastic
Fingerprint (touch)
Fingerprint (touch)
Fingerprint (touch)
Touch sensitive control keys
Touch sensitive control keys