More evidence of October 21st BlackBerry Storm2 9550 Verizon launch
This article contains unofficial information.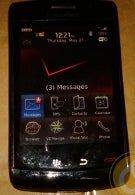 pointed out
to you yesterday, plenty of promotional material for the BlackBerry Storm2 9550 was streaming into Verizon stores, including a poster for a BlackBerry BOGO promo. Well, the fun never stops around here as Crackberry was able to grab up some photos of the Storm2 9550 dummy model. It seems like just yesterday when the first-gen Storm dummy was found in Verizon stores as we all oogled the photo of the hand holding the non-working model of RIM's fiorst touchscreen phone. Now, almost a year later, the stakes are higher. All of the competitors have been bringing their "A" game. Android now has a strong distribution partner in Verizon, Windows Mobile 6.5 is now out with its Windows Marketplace for Mobile and more finger friendly design, Nokia has called upon Linux based Maemo 5 to run multimedia centric handsets, and Apple has upgraded the iPhone OS to
3.1
.2 to remove some bugs and add some features. The Storm2 will be powered by a Blackberry 5.0 OS and based on today's evidence, it looks like October 21st will be the launch date for Big Red.
Not only is the dummy model being shipped to Verizon stores, an act that usually occurs within a week or two of a product launch, but Crackberry was also able to snag a screenshot of some Verizon internal email which indicates an October 21st 2009 launch date for the phone. By the way, if you want to know how to distinguish a picture of the original Storm 9530 with the sequel 9550, take a look at the 4 buttons just underneath the screen. On the first-gen model, the phone, memo, back and end buttons are distinct from the screen. On the new version, those 4 keys are actually flat and are part of the bottom of the screen.
RIM BlackBerry Storm2 9550 Preliminary Specifications
|
Preview
source:
Crackberry (Verizon email)
,
Crackberry (Verizon Storm2 dummy)