BlackBerry Storm 2 promo materials hit Verizon stores
This article contains unofficial information.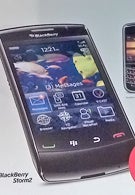 sometime around October 25
. We have now been contacted by a VZW employee, who informed us they have received promo materials for the Storm2. As we have heard, such materials get stocked about one or two weeks before the official launch of the phone, which nicely coincides with that aforementioned October 25 date. Unfortunately, info on pricing is still unavailable. (Thank you, Josh!)
The same flyer can be found in a different image, provided by BlackBerryRocks, so we guess not just one store is getting ready to release the beast.
In addition, the BlackBerry Storm2 has been listed as coming soon in Vodafone Germany OnlineShop. Having this in mind, we agree with BlackBerryRocks' comment that we may soon witness a network-wide launch of the new device. Great! And in the meantime, why don't you check out our preview of the RIM BlackBerry Storm2?
RIM BlackBerry Storm2 Preliminary Specifications
|
Preview
source:
BlackBerryRocks
,
more