More Galaxy Note 7 pictures leak out – is this an AT&T model?
22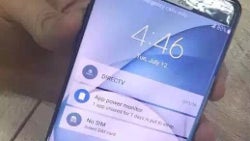 The
Samsung Galaxy Note 7
is due to be announced
in three weeks
, but leaks are already popping up, spoiling the surprise and showing us exactly what the device is going to look like. We've seen fan renders,
based on leaked schematics
, then
official renders
, revealing (some of?) the finishes the device is going to be available in, and most recently –
actual photos
of the device, caught in the wild.
Well, now, we get to see it again. The Galaxy Note 7 in black has popped up again on Chinese social media website Weibo. Pictured mostly from the front in a few low-quality photos, most of the phone's details are smudged out and drowned in the black finish. However, eagle eyed observers may notice a notification from an app called DIRECTV – that's AT&T's own TV service. So, we might just be getting our first look at the AT&T Galaxy Note 7 here!
Additionally, we get another picture of the Note 7's front panel, with all the mysterious openings on its top. We speculate that they are for (from left to right) the notification LED, the selfie camera, proximity + light sensor module, earpiece (right in the middle), and the twin openings to the right could be used for the rumored retina scanner (yes,
it might need both
).
The Note 7 is about to be announced on the 2nd of August and rumors say it will only have an "edge" variant – no flat one.
Why isn't it called the Note 6?
Let's see if Samsung comes up with a mind-blowing explanation!