Microsoft's Nadella admits: "We don't have good flagship devices"
66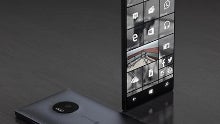 As Microsoft struggles to compete with iOS and Android in the smartphone market, one oft-visited critique is Windows Phone's lack of developer support. Aspiring and established devs look at Apple and Google's platforms as potentially rich sources of revenue, whereas WP -- soon to be Windows 10 Mobile -- is comparative light-years behind. But the other grievance with Microsoft is the distinct shortage of selection at flagship level. Sure, the Lumia range has spawned a handful of hits over the years, but with little consistency, and there's been nothing to shout about for while now. Encouragingly, Redmond CEO Satya Nadella seems fully aware, and has promised that the company will do more to address this situation in future.
Talking about big new handsets for Windows has turned into something of folklore. While Apple and Android fans assess the near-certainty of the respective iPhone 6S and Galaxy Note 5 due for arrival over the next six or so weeks, the rumors of a
Lumia 940 / 940 XL
duo ready for September's IFA have since been trumped by the notion of a straight jump to a
Lumia 950 / 950 XL
combo. If true, the 950 and it's larger counterpart mightn't arrive until November, by which time many iPhone and Samsung Galaxy fans will likely have made their decisions.
Nadella has already asserted that if OEMs wish to baulk at the chance to build smartphones for Windows, then his company is willing to
step up to the plate
. Having continued to churn out budget devices in lieu of a flagship for over a year now, there's been a lot of fighting talk from both Nadella and devices chief Terry Myerson. But today, Nadella has somewhat leveled with the disgruntled audience and conceded that the smartphone market's flagship tier is one
"in which we don't today have good devices".
It's patently clear that some structure needs to be established ahead of Windows 10 Mobile's launch, and while Nadella may be stating the obvious in this case, it's encouraging to hear blunt truths from the guy best-placed to turn things around.
What do you think -- can Microsoft turn things around beyond Windows 10 Mobile and push Apple, Samsung et al in the upper echelons?
Let us know via the comments!