Microsoft CEO Nadella: If no manufacturers want to build Windows Phones, we will build them
74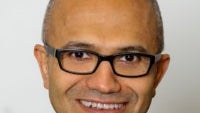 Microsoft CEO Satya Nadella is telling Windows Phone fans not to worry about where their next Windows Phone handset is coming from. Nadella was interviewed backstage after speaking at the company's Worldwide Partner Conference, and said that if manufacturers refuse to build Windows Mobile phones, Microsoft will build them. Regardless who is actually producing the phones, Microsoft says that it is committed to covering the three sectors it talked about last week. Those three categories include
entry level value phones, phones for the enterprise, and highly spec'd top-shelf models
for those fans who appreciate such devices.
Nadella also pointed out that the reason to offer universal apps has nothing to do with Windows Phones. Besides pointing out the small 3% share that the platform owns in the smartphone industry, he says that the real reason for having universal apps is because of the desktop. Developers can start the journey on the desktop and continue it anywhere that there is a start menu. Using Airbnb. as an example, the executive said that considering the 3% share in phones owned by Microsoft, it would make better sense for Airbnb to build an app for the desktop and Xbox.
"Universal Windows apps are going to be written because you want to have those apps used on the desktop. The reason why anybody would want to write universal apps is not because of our three percent share in phones. It's because a billion consumers are going to have a Start Menu, which is going to have your app. You start the journey there and take them to multiple places. Their app can go to the phone. They can go to HoloLens. They can go to Xbox. You talk to somebody like Airbnb. It might be more attractive, given our three percent share on phone, for them to actually build something for the desktop and for the Xbox."-Satya Nadella, CEO, Microsoft
The CEO said that Windows 10 takes care of one major problem that Windows 8 has which is with users discovering the Windows Store. In Windows 10, Nadella says that "
the store is right there and done in a tasteful way
."
source:
ZDNet