Microsoft to unveil new Microsoft Surface tablets on September 23rd
13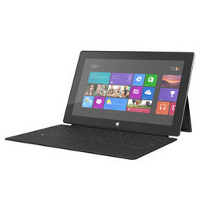 Another major product introduction is taking place in New York City. On September 23rd, Microsoft is expected to take the wrapping off of its new line of Surface slates. According to those in the know, the Microsoft Surface 2 is actually the sequel to the
Microsoft Surface RT
and will indeed be powered by the NVIDIA Tegra 4, something that
NVIDIA CEO Jen-Hsun Huang hinted at
earlier today.
Other expected changes include a jump in the resolution of the 10.1 inch screen from 1366 x 768 to 1920 x 1080 or FHD. Those who have seen the device in white say it still carries a black bezel. Things like battery life, dimensions and weight will remain identical to the OG model.
As for the Microsoft Surface Pro 2, it is expected to have twice the RAM (to 8GB) as the original variant, and run on Intel's Haswell Core chip. The latter should help the slab run faster and get better battery life. Both tablets will have a new Surface Cover to choose from. In addition to the Touch Cover and the Type Cover,
there will be a Power Cover which will feature the regular QWERTY style keyboard keys
used on the Type Cover. But this cover will feature an embedded battery to help extend the battery life of either Surface tablet.
Despite the unveiling of the tablets this month, we probably won't see the next-gen Surface tablets out until next month.

source:
GigAom