NVIDIA CEO confirms company's involvement in Microsoft Surface 2
8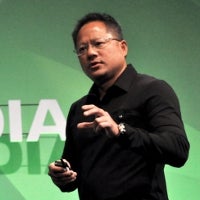 Last week we passed along a couple of stories that contradicted each other. First, we told you that the Microsoft Surface 2 (the name given to the sequel of the
Microsoft Surface RT
tablet)
had gone through the GFX benchmark with the NVIDIA Tegra 4 processor
under the hood. Not surprising. After all, the original was powered by the Tegra 3. But almost instantly, speculation had the Surface 2
being powered by Intel's next generation Core i5 Haswell processor
.
Based on comments by NVIDIA chairman Jen-Hsun Huang, which were published on Monday, it looks like the first report is the correct one. The executive says that NVIDIA is working hard to make the Microsoft Surface 2 a "
big success
," something that the first generation of the slate was certainly not. The giant Redmond based software company
was forced to write down $900 million of Surface inventory
and between the Microsoft Surface RT and
Microsoft Surface Pro
, sold only $853 million worth of tablets.
Huang says that one of the problems with the Surface RT was that when it launched, the Outlook app was not available for the tablet. But Huang, calling it the "killer app," says, "
Now we're going to bring it with the second-generation Surface. We're working really hard on it, and we hope that it's going to be a big success
." And while the executive didn't come right out and say it, it certainly seems likely that the Tegra 4 will be driving the slate.
Microsoft is said to be developing a 7 inch version of the Surface 2 that might be powered by silicon from Qualcomm, but that has yet to be announced. One thing we do know is that NVIDIA will play some sort of role as a Microsoft vendor for the Surface 2.
source:
CNET