Microsoft Surface 2 will have a new Power Cover with a built-in battery
8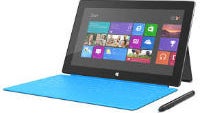 There are new Microsoft Surface tablets on the horizon. We've seen Microsoft
drop the price
on last year's models, as well as dropping the price of the
Touch Cover
. But, new word has it that the next generation of Surface tablets will have another cover to go along with the Touch and Type Covers. This time, there will be a Power Cover, which as you could guess will have a built-in battery.
The Power Cover will obviously be compatible with the Surface 2 and the Surface Pro 2, as well as the original Microsoft Surface Pro. The only device that will be left out is the original Microsoft Surface. It seems that one of the improvements to the Surface Pro was a new connector which would allow for covers with battery packs, so the original RT Surface tablet won't be able to use the new accessory.
According to the news, the Power Cover will have the same style keyboard as the current Type Cover, meaning it will be a proper keyboard, and not just the rubber nubs of the Touch Cover. The Power Cover will add a fair bit of heft though at .38 inches (9.75 mm) and 1.1 pounds (520 grams), which is quite about double the size of the Type Cover.
No word yet on how much battery life it will add to the tablets, nor what the price will be. As far as availability, the Power Cover will come along when the Surface 2 and Surface Pro 2 do.
Recommended Stories