Microsoft to buy RIM?
36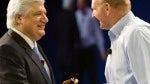 An analyst claims that due to RIM's not so good showing in the past months (or a year), Microsoft may look into the possibility of acquiring the Canadian company to boost its own presence in the smartphone market.
It's hard to argue that RIM is losing its smartphone momentum - not only this notion is now treated as a common sense thing, but also there is some very persuasive evidence pointing in that direction -
its profits and revenue are plunging
, people in the mobile industry seem to agree that
Windows Phone is sure to overcome BlackBerry OS
in the coming years, not to mention that
Mike Lazaridis, RIM's co-CEO
, doesn't act like a man who is able to turn around the Canadian company's failing fortunes.
Its BlackBerry World announcements - the
new BlackBerry OS 7.0
(previously known as BB OS 6.1) and its
two new handsets
- did little to dispel the fears that RIM is lagging behind the smartphone curve. That's only iterated by the fact that Steve Ballmer's appearance during BB World fueled previous speculations that the
Redmond-based company may purchase RIM
at some point in the future.
Here's what Harry Wang, director of mobile research at Parks Associates, says on the subject:
"Will Microsoft buy RIM? That is a possibility and a fast track for Microsoft to gain a foothold in the mobile hardware business."
He goes on:
"RIM's market capitalization is only $25 billion and Microsoft has $48 billion in cash. If RIM's value drops to $15 billion, it will become an attractive target for Microsoft. Maybe Steve Ballmer was planting that seed during his keynote appearance at Blackberry World."
The analyst says we shouldn't expect such a deal to be announced in the next year or so. Of course, it goes without saying that this move may never materialize - especially if RIM's transition period goes well. However, if things don't work out for the Canadian manufacturer, there is some chance that Microsoft may buy it for its enterprise appeal:
"There's a 50 percent probability that, in about two years, Microsoft will make a big and bold more to acquire large hardware vendors. RIM will be the best target because it has a user base that Microsoft is looking for: enterprise customers. And they are in the key, fast-growing area that Microsoft isn't very successful at yet, the mobile world. The need for Microsoft is so urgent in mobile, yet RIM is a perfect entry."
As you can see, there is nothing certain in this analysis - there are plenty of "ifs" and "buts" in it. What's your opinion on it, though - would you be happy if Microsoft purchases RIM or you feel it would be a shame if the Canadian company is no longer in the mobile game?
source:
PC Mag